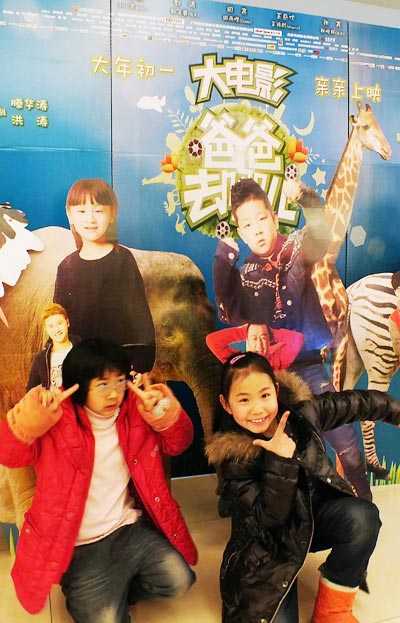 Children pose in front of a poster of Dad, Where Are You Going? at a cinema in Yichang, Hubei province. Liu Junfeng / For China Daily
China's box office performed well during the seven-day Lunar New Year holiday but movies received mixed reviews.
From Jan 31 to Feb 6, theaters grossed 1.39 billion yuan ($229.2 million), 81.7 percent higher than that of the same holiday last year, according to Entgroup, an entertainment industry consultancy.
About 38.2 million people visited cinemas during the holiday.
The two big winners were The Monkey King and Dad, Where Are We Going?
These two domestic films raked in 612 million yuan and 468 million yuan respectively, beating Disney's Frozen.
However, they received mixed reviews.
The Monkey King is an adaptation from the popular ancient Chinese legend Journey to the West. Moviegoers complained about its computer graphics and storyline in online film review forums.
"It's an awkward adaptation. The development of the story was in haste, with little connection between one scene and another. And the actors reciting lines are too artificial," said Ma Boyong, a popular movie critic.
Dad, Where Are We Going? is a documentary about a popular reality television show with the same name, which focuses on the relationship between celebrity fathers and their children.
Although a low-budget production, the documentary earned more than 90 million yuan on its debut day.
Some industry insiders questioned whether it could be classed as a "film".
"It took five days to shoot. That is not even enough to make a 30-minute short film," said Cui Bohan, a Le Vision Pictures distribution manager.
Some critics suggested producers were taking advantage of the TV show's broad fan base to earn a quick buck.
The success of the documentary is mainly because of the show's popularity and good promotion work, instead of its quality, said Wang Yizhi, a film critic.
"Leading characters from the show held quite a number of promotional events and meetings with fans, which increased awareness and exposure," Wang added.
The production team of the TV show and documentary defended the movie.
"The success of such a film based on a TV show might be the beginning of a new type of film," said Zhang Huali, chief director of Hunan TV, one of the producers.