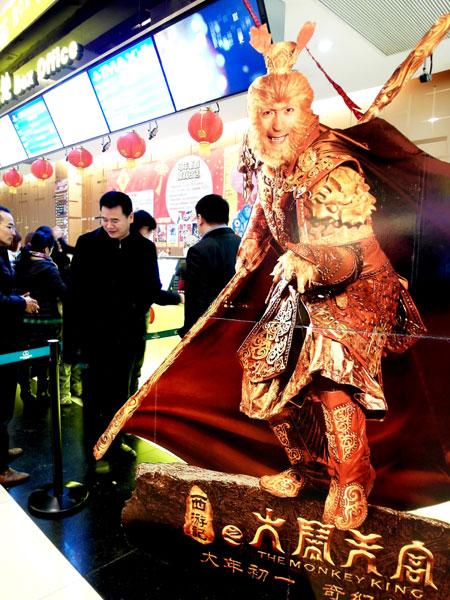 A poster for The Monkey King is seen at a cinema in Yichang, Hubei province. Liu Fengjun / for China Daily
The box-office surge over the holidays has excited some, but dismayed others, observes Raymond Zhou.
Before Spring Festival arrived on the last day of January, the holiday season was looking rather bleak for China's film industry. Box-office intake for December suffered a 17-percent decline, from 2.55 billion yuan ($421 million) in 2012 to 2.14 billion in 2013, making it the first time in 12 years it failed to maintain its status as the strongest month in box-office revenue.
But when the festival, aka Lunar New Year, rolled along, it was like oil gushing out of a new field. The seven-day holiday (Jan 31 to Feb 6) registered a nationwide gross of 1.4 billion yuan, roughly the return for the entire year of 2004. For the first three days, daily intake exceeded 200 million yuan, and the later decrease was gradual, thus preserving the momentum. Not only did the box-office figure set a record for the holiday, but the number of screenings and the rate of attendance also were unprecedented, jumps of 43 percent and 70 percent respectively over the same period in 2013.
The spectacular performance was spearheaded by two domestic releases, which are almost polar opposites in both subject and style. The Monkey King, a 3-D retelling of the most popular fantasy tale in Chinese art and literature, is heavy on big stars and special effects. It supposedly cost some 500 million and three years to make and market. Daddy, Where Are We Going? on the other hand, is not even a feature film; it is a feature-length big-screen episode of a reality television program. It took five days and very little marginal expense to produce. For the seven-day holiday, the former raked in 612 million yuan and the latter 468 million. But attendance for Daddy was reportedly higher as it was in 2-D and averaged a lower price per ticket.
In terms of return on investment, Daddy beats The Monkey King hands down.
That has got a lot of experts worried. If a movie with no narrative arc and no artistic aspiration can achieve such a commercial miracle, what kind of message will it send to the filmmaking community? The biggest criticism boils down to: This may be what audiences want, especially those in smaller cities with presumably less sophisticated taste but new multiplexes mushrooming, but it is not a movie after all. And it is going to wreak havoc with the standards of film as either art or commerce.