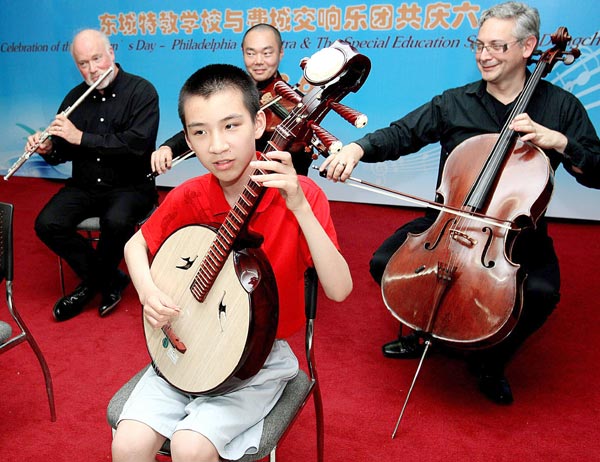 Gao Yuxuan, a boy with autism, performs with musicians from the Philadelphia Orchestra during a celebration of International Children's Day in 2012.
Sound potential
Gao Tian, one of the first Chinese known to study music therapy abroad, founded the Institute of Music Therapy at the Central Conservatory of Music in 1996.
All individuals have the ability to respond to music and sound, he says, which can lead to positive changes in their behavior and emotional responses. More than 1,500 people have received music therapy training from Gao so far.
"Music has great positive effects for brain activity. It's not a medicine, which cures certain disease," says Gao, who graduated from Temple University in the United States and received his MA degree in 1994. He says the main approaches use singing, instrument playing and language guidance, to encourage people to engage in spontaneous and creative musical activities. "With proper music therapy, people can relieve anxiety and control emotions."
Gao is planning to offer services for seniors in China since the country's aging population is growing rapidly. "It has been proved that music therapy can benefit the elderly with mental health needs, by reducing isolation, promoting memory and healing after stroke," he says.
Wang Chunhong, who has studied music therapy since 1987, says that one challenge is to raise awareness about its benefits and potential. A graduate from Beijing Dance Academy, Wang uses dance and music to treat her clients. More than 2,000 people with mental challenges came to her during the past 20 years.
Born into a family of doctors of traditional Chinese medicine, Wang founded an arts-rehabilitation center in 2000 and combines the theory of TCM with music therapy, an idea documented in the book Art Therapy in Asia in 2012.