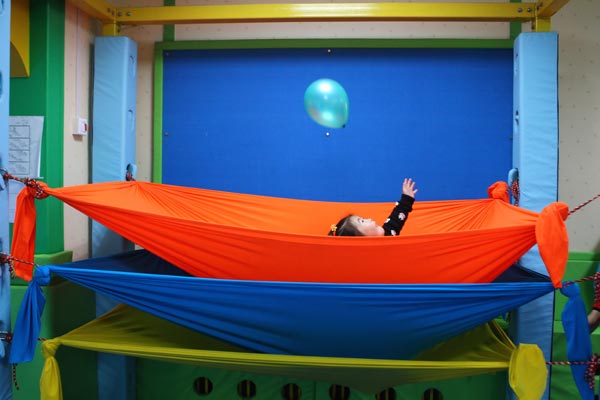 Haidian Modern Kindergarten is one of the institutes in Beijing providing care and help for children with autism. [Photo by Zou Hong / China Daily]
More children are being diagnosed with autism, prompting the establishment of a new research center in Shanghai and more efforts to detect the disorder in infants. Wang Hongyi reports in Shanghai.
The "children of the stars", as autistic people are called in China, live with slow language development, an unwillingness to communicate and narrow interest ranges.
Autism is a neurological disorder that affects normal brain function. It usually emerges in the first three years of life.
The number of children with autism has been rising in recent years, drawing more attention to the condition, according to Du Yasong, a professor at Shanghai Mental Health Center, who is also an expert on autism. Du and his peers are still trying to determine why the numbers are up.
"There are not sufficient psychological counselors and professional medical staff for rehabilitation training for children. Much work needs to be done," Du says.
Shanghai's Fudan University Autism Treatment and Clinical Research Center will establish the country's largest research network for identifying autism in children and treating it.
The center will carry out a large epidemiological study among 120,000 autistic children aged between 6 and 12 by teaming up with universities and medical bodies from eight provinces.
Under the three-year project, about 1,200 biological samples from autistic children will be collected to study the incidence of the disease and the factors causing it in China.
Experts estimate that one in 100 children are being diagnosed with an autism, far higher than other diseases, such as cancer (1/1,500) and diabetes (1/500). In developed countries, about one in 110 children are diagnosed with autism.
"There has not yet been a large-scale epidemiologic investigation of the disease, but data from Guangzhou, Tianjin and some places show that about one in 120 children are diagnosed with the disease," says Wang Yi, vice-president of Shanghai Children's Hospital of Fudan University where the research center is located.