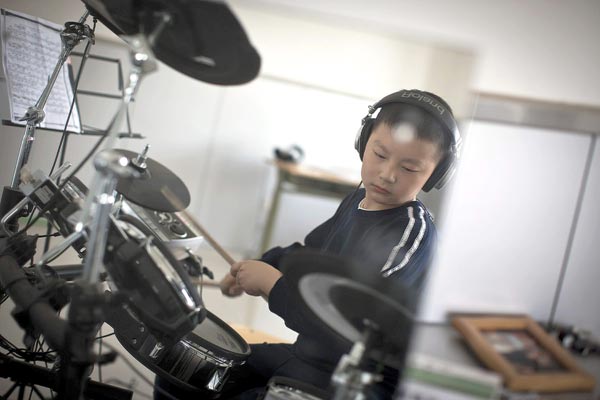 Chao Chao, a fourth-grader with autism, practices electronic drums for a performance at Beijing Guomei Jiayuan Primary School. Liu Bin / Xinhua
Music therapy is gaining wider acceptance in China, as mentally challenged youngsters are exposed to classical music and learn to play instruments in programs that help them find harmony with the outside world, Chen Nan discovers.
Yang Xinli knew that her daughter, Huan'er, was different from other children soon after she was born in 1990. She easily lost her temper, couldn't sleep well and had no eye contact with people. None of that fazed Yang and her family until a psychologist Yang met at a bus stop suggested that her daughter's crying and screaming were not normal.
Yang took Huan'er, who was then 20 months old, to the hospital and was told that her daughter had Asperger syndrome, an autism spectrum disorder.
Shocked and depressed, she went to many hospitals in her hometown of Xi'an, Shaanxi province, and tried every possible treatment to help her daughter.
Two years ago, Yang was introduced to the Xi'an-based KBL Music Therapy Studio. Music therapists there have helped her daughter find a more positive outlet for her emotions through sessions that involve listening to classical music and having her daughter play instruments and sing.
"She makes much more eye contact with me now and she sings well," says Yang, who takes her daughter to such classes twice a week. "She enjoys being part of the group."
Yang hopes that her daughter's progress means she will get a job after graduation a year from now, like "normal" students.
"I am still worried about her future but I hope she will be part of society and enjoy her life," she says.