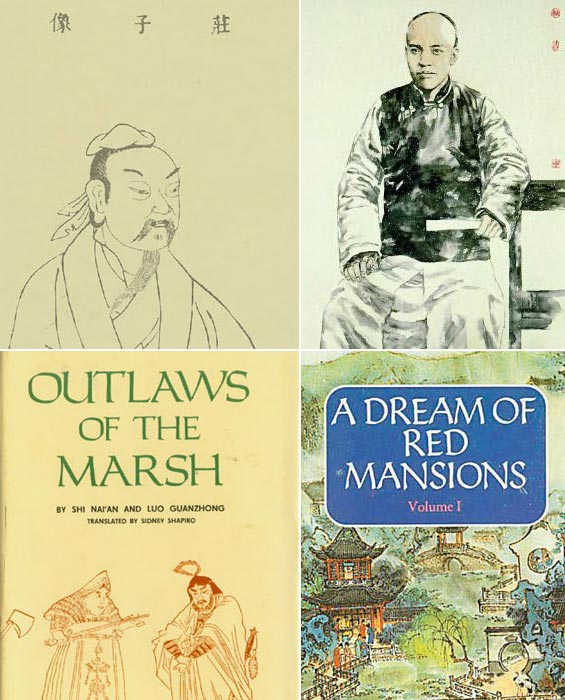 A new biography series sheds light on the country's masters of culture, such as philosopher Zhuang Zi (top left), scholar Liang Qichao (top right), Shi Nai'an, author of Outlaws of the Marsh, and Cao Xueqin, author of A Dream of Red Mansions. Photos Provided to China Daily
A team of contemporary experts is taking fresh pens to some of China's leading lights in a new biography series, Mei Jia reports.
A team of select literary professionals has been invited to refresh China's cultural history by contributing to a new series of biographies. Writers Publishing House plans 120 books published in Chinese - the first 10 just released - to give a fresh, contemporary perspective on more than 120 masters of culture. The team of writers, researchers and biographers began the ambitious publishing project 21 months ago, highlighting key cultural figures who lived in eras ranging from the 4th century BC to the late 20th century. The series will take another five years to complete.
He Jianming, director of the project's editorial committee, says the committee selected the list of masters and their respective biographers with great care. The publishers even organized two experts' teams - one of history academics and the other literature critics - to evaluate the works and ensure that they're factual, original and fun to read.
"We chose literary writers who can do research as well as history researchers who can write fictional works well," He says, adding the biographers included award-winning writers Wang Meng, Zhang Wei and the late Zhou Ruchang.
"We haven't had books like this before. The existing biographies are either too dry to read for non-academic readers, or too distorted and too fictitious to be credible," says Zheng Xinmiao, culture expert and former curator of the Palace Museum.
The big number and range of biographies, Zheng says, will "present the contour of Chinese culture as a whole".