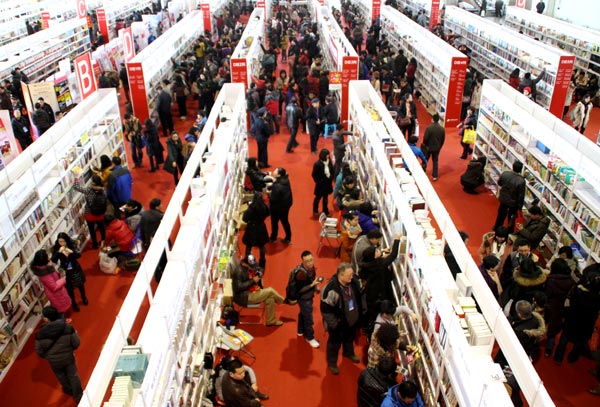 Beijing Book Fair is hailed as a weathervane of Chinese publishing and highlighted with new releases by the country's big-name authors. [Photo by Wu Changqing/For China Daily]
The 2014 Beijing Book Fair attracted big crowds and shined a spotlight on some of the biggest publishing trends in China. Mei Jia and Sun Ye report.
The 2014 Beijing Book Fair attracted 85,000 book lovers, who attended a host of events throughout the city.
The fair has a stronger focus on the domestic market than the annual Beijing International Book Fair, which is more focused on international copyright trade and exchange.
Hailed as a weathervane of Chinese publishing, the book fair has been held every year since 1987. This year, the fair put a spotlight on interesting trends in Chinese publishing.
According to the organizing committee, it showcased more than 500,000 titles across nearly 2,300 booths from 859 publishers. The fair's financial transactions reached an estimated 3.45 billion yuan ($570 million)if calculated by the cover price.
Several book fair events featured the country's top writers, whose works have a solid fan base.
Chinese-American writer Yan Geling attended the fair to pro-mote her new novel The Ma Kok City. Yan's work, especially her historical novels, have been adapted by film directors, such as Zhang Yimou, and have attracted praise from Chinese and English language readers.
"This is the first time I have attempted to delve into contemporary Chinese society and present a contemporary story. I find myself busily following the updates as China changes dramatically. Every three months after my last visit, I see things differently," Yan says, adding she writes carefully to avoid the tone of someone who lives abroad.
"Because my readers are in the same situation as the character in the novel. They know today's China better than me, so they will be quick to judge," she says.
Based on Yan's research and interviews in Macao casinos, The Ma Kok City tells the story of a female junket operator working for the Ma Ge casino. From 2008 to 2012, she's involved in relationships with three gamblers.
"The novel has an exciting setting and Yan grasps the details of human nature well. Her characters are vivid and her storytelling is powerful," says critic Meng Fanhua.