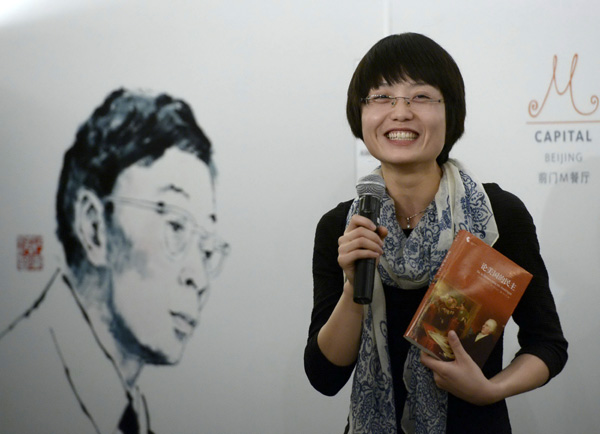 Cao Dongxue,29,wins the 2013 Prix Fu Lei for her translation of Democracy in America by 19th-century political thinker Alexis de Tocqueville. Hou Yu / China News Service
Cao Dongxue believes that among Chinese oenologists and wine educators, she can translate best, and among the translators of French, she knows the most about wine.
The 29-year-old winner of the 2013 Prix Fu Lei (the Fu Lei Prize) for translation and publication from the French embassy in China, is the youngest ever recipient of the yearly prize since its launch in 2009.
"Her translation is precise and readable, with neat language. It's comparable with the older Chinese version of the book," writer Zhou Guoping says about Cao's translation of Democracy in America by 19th-century political thinker Alexis de Tocqueville.
Dong Qiang, chair of the prize's judging panel, praises Cao's achievements at such a young age.
To Cao, the whole experience of translating the book in a year and a half is "like a baptism, because it offers a wonderful new angle into understanding our own society, renewing my knowledge and way of thinking".
"Besides, it's so well written that I couldn't help reading aloud and dancing on my feet when I finished rendering its beautiful long sentences into Chinese," Cao says.
Cao surprised everyone at the awards ceremony when she announced she is no longer a French teacher at Shandong University, but an oenologist who trains hundreds of sommeliers.
Now based in Nanjing, Jiangsu province, Cao is a Nanjing University graduate and a mother of a 2-year-old. She won prizes related to translating since her student years.
Many years of soaking in French language and culture, Cao developed an interest in the wine culture and a brave heart to pursue whatever attracts her.
"I follow my curiosity," she says.
She quit her teaching career and began attending Wine & Spirits Education Trust's courses to launch a new career as "Master of Wine".
"Fluency in the French language helps me a lot when it comes to things related to wine," she says.
With 8,000 euros in prize money, Prix Fu Lei honors one fictional book and one on social sciences rendered from French language. The winners are selected by a group of judges consisting of four French and four Chinese.
A new element was added in the 2013 event with a "New Star" award and the inclusion of veteran writers Yu Hua and Zhou Guoping as special judges.
"We hope to strengthen the readability of translated works, so we invited the two writers, who don't know French, but have high mastery of the targeted language," says Sylvie Bermann, French ambassador to China.
Bermann, herself a zealous reader of literature, says that in 2012 the number one market that published the most translations of French books was China.
"Literature offers the best way to understand each other," she says. "We pay tribute to translators like Fu Lei through the prize. Fu helps promote French culture to the Chinese people."
Another winner was Liu Fang, 81, for her translation of the novel Brodeck's Report by Philippe Claudel. The former translator/editor of China International Publishing Group says she translated the book because it moves her into tears.
Featuring the murder of a stranger, the novel illustrates hatred and ferocity and how they feed off each other.
"Written in colloquial language, the original text is difficult to translate. Liu Fang balances the spoken and written languages well with her skillful techniques," says writer Yu Hua, who also has rich experience working with translators.