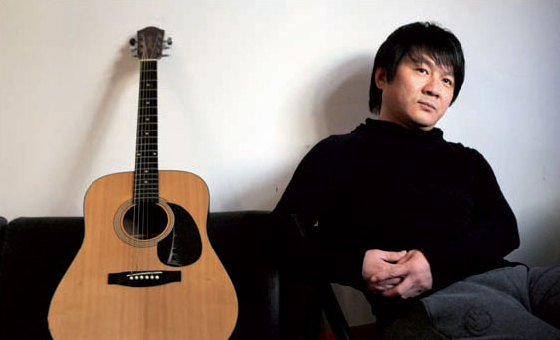 Musician Luan Shu works with director Feng Xiaogang on the comedy Personal Tailor. Zou Hong / China Daily
Veteran songwriter and producer Luan Shu found himself in a dilemma all of last year.
He had a full schedule for music, flying between cities playing in a live band for popular reality TV show I Am a Singer, producing albums for big names like Na Ying and Chyi Chin, and making the music for director Feng Xiaogang's latest comedy Personal Tailor.
However, as a professional equestrian athlete, he could barely squeeze out time to take care of his stud farm at the outskirts of Beijing. He would drive hours to get there in the middle of the night because he missed it so much.
"It was really shameful that I didn't participate in any equestrian competitions in 2013," says Luan, 44, who first fell in love with horses in 1988. He used his own money to start an equestrian club in Beijing and participated in competitions, both at home and abroad.
To totally devote himself to his horsemanship, he even left the established rock band Black Panther in 1994, where he once played as keyboardist and leading vocalist. In 1997, Luan won the championship at the equestrian competition of the National Games.
"Both music and horse riding make me happy but I am always trying to find a balance," he says.
The success of Feng's comedy, Personal Tailor, provided some consolation. The movie grossed more than 530 million yuan ($88 million) since its premiere on Dec 19. It tells the story of a group of actors who run a company that helps people to live out their dreams.
Luan says he was living in a dream during the composition process. The opening lines of Liberation, the movie's theme song, go like this: "A beautiful ranch is kept deep in heart, which has blue sky, white clouds and pure land."
When famous writer Liang Mang presented the lyrics to Luan, the veteran songwriter was very excited.
"We are living in a world with huge pressure. Liang wants to set us free through the lyrics and indeed, I felt liberated," says Luan.