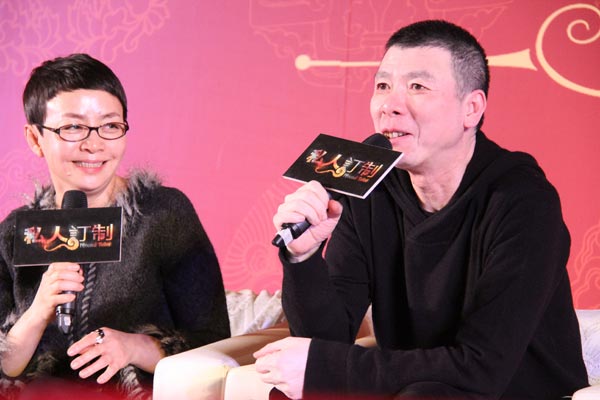 Chinese film director Feng Xiaogang (R) and actress Song Dandan (L) attend a press conference on "Personal Tailor" in Beijing on December 29th, 2013. [Photo/CRIENGLISH.com]
Director Feng Xiaogang said he was "at daggers drawn" with film critics on Sina Weibo.
Feng was furious about the negative reviews for Personal Tailor, a film that has grossed 400 million yuan ($63 million) in one week.
The critics should be ashamed of themselves because they did not understand his sarcasm, Feng said on Monday on his micro blog.
"I am not scared of you, and we are at daggers drawn. You are not qualified to influence audience tastes. Don't be shameful."
The 55-year-old director also reiterated that he has worked hard to push the boundaries despite censorship.
"In Sigh, I made a breakthrough on the topic of extramarital affairs; in A World without Thieves, on the depiction of thieves; in Assembly, on the war's impact on humanity; in Back to 1942, on the characteristics of our race, in Personal Tailor, on the satire of power. I have fulfilled a director's responsibilities, both for the market and the art."
At a press conference on Sunday, Feng further illustrated his point. "I will never blame audiences who buy tickets to see my film, but many film critics did not pay to see the film."
Critics hit back at Feng on social media.
Flypig said: The only breakthrough Feng has made is to make a comedy not funny at all. Personal Tailor tells three short stories about three people who want to escape their daily routine and lead an ideal life for one day. They dream of being an official, an artist and a billionaire.
Critics have been targeting what they claim is a lame structure and narrative. But some, like writer Shi Hang and critic Tan Fei, acknowledged Feng's efforts to satirize the powerful and rich in spite of censorship.