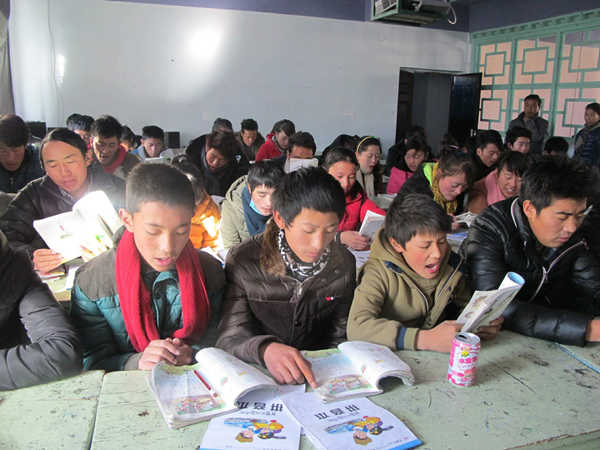 Tibetan students attend a Mandarin class at Dungkar Language School in Lhasa. Language schools help local people easily communicate with different people, and also, help them find jobs. [Photo by Palden Nyima/China Daily]
Without providing any qualifications or certificates, language schools in Lhasa have led many people struggling with literacy to new job opportunities.
There are 16 language schools in Lhasa, but only three are officially registered, according to an official at the Lhasa City Education Bureau.
Built in 2001, Dungkar Language School has trained nearly 20,000 students, according to Lobsang, the school headmaster.
"We have about 700 students and 21 teachers. The classes are divided into three grades, the elementary, the middle and the top," Lobsang says.
Many excellent trilingual guides in Lhasa are graduates, according to officials of the school.
"I feel grateful to the Dungkar Language School, because it provided me the opportunity to learn Mandarin and English," says Basang Tsering, a tour guide in Lhasa. "It enabled me to communicate easily with different people; moreover, it allowed me to make a good living."
Language schools provide courses in English, Chinese and Tibetan, but they also teach computer skills. Learning periods differ from several months up to three years.
"Most students in language schools are from Lhasa, nearby counties and northern Sichuan and Qinghai provinces," says Lobsang, adding that most of them are older than school age. Most have never been to school, some are early dropouts, and some received proper school education, but they have a thirst to learn English and computer skills, he says.
"Many people in Lhasa attend language schools to learn English or Mandarin, because there is a big tourism market there," says Li Guoqing, a Tibetan woman who works in the education bureau of Tibet's Damxung county.
"Many graduates get opportunities to work in hotels and other service industries."
Most Tibetans in Lhasa speak the U-tsang dialect, which is common in Tibet. For those eager to speak more fluent and idiomatic U-tsang dialect, language schools have become their first option, according to Dolkar, a worker from the education bureau of Lhasa.
"People of other ethnic groups such as Han and Mongolian, turn to language schools to learn Tibetan," she says.
According to the Dungkar Language School, many young nomads come to study in language schools in winter.
"I come from a nomadic family. My family had many yaks when I was a little girl," says Dekyi Droma, a student from Tibet's Nagqu prefecture.
"Without receiving any school education, I feel like a stupid animal lost in the city. I want to catch up."
Language schools help many primary and middle school students do that, says Tashi Chosphel, a teacher of Lhasa No 1 Middle School.
"First of all, school teachers are too busy to do make-up lessons, and secondly, many parents are incapable of helping their kids with studies," he says.
School officials say language schools in Lhasa are not only for jobless people who need literacy, but a re-education center for those who are already working. The language schools help professionals with poor computer skills and poor English to improve themselves, Lobsang says.
"Our dream is to build a private college one day," says Lobsang.