Yamzhog Yumco: jade-like lake in Tibet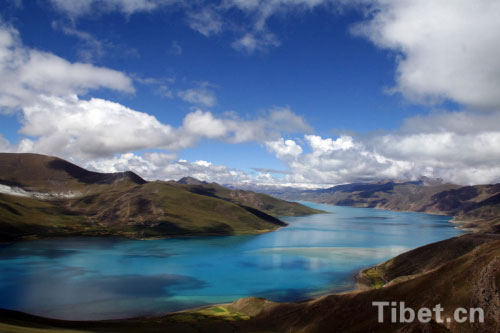 Yamzhog Yumco is the biggest enclosed lake on the northern slope of the Himalayas, and is regarded as holy lake together with Namco and Mapham Yutso. [Photo/China Tibet Online]
Yamzhog Yumco is the biggest enclosed lake on the northern slope of the Himalayas, and is regarded as holy lake together with Namco and Mapham Yutso.
"Co" or "Tso" in Tibetan means "lake". There are more than 1,500 plateau lakes at an elevation between 4,100 meters and 4,900 meters, taking up nearly 242 quare kilometers.
The Yumzhog Yumco, located in the Nakartse county in Tibet's Lhoka prefecture, is regarded as the most beautiful water in the world.
Yumzhog Yumco in Tibetan means "the jade lake on the upper meadow" and is considered as "turquoise earrings of Goddess". It wriggles amid mountain valleys for more than 130 kilometers, which looks like an earring when seen from a map or the sky. In different sunlight, the Yumzhog Yumco reflects various colors.
Together with prairies, islands, hot springs, wild lives and Tibetan residents and monasteries, the Yumzhog Yumco has become a scenic natural spot. Some snow mountains alongside it can be above 7,000 meters. The beautiful scenery only makes people lingering on the scoop.