Enjoying a bumper vegetable harvest in Tibet
Thanks to the popularization of agricultural facility technology, vegetable yield in Tibet is on rise year by year, freeing many areas in Tibet from complete dependence on inland vegetable supply and even living up to self-sufficiency during the peak production season.
The following photos show a bumper harvest in greenhouses of Ongda Village, Ridung Township, Chamdo County of eastern Tibet's Chamdo Prefecture, where lie altogether 109 greenhouses. Located by the Zachu River (the Tibetan name of Lancangjiang River), the village has been blessed with flat terrain of good soil and irrigation conditions, which produces not only peppers and cucumbers but also chives, strawberries, watermelons, mushrooms and macas.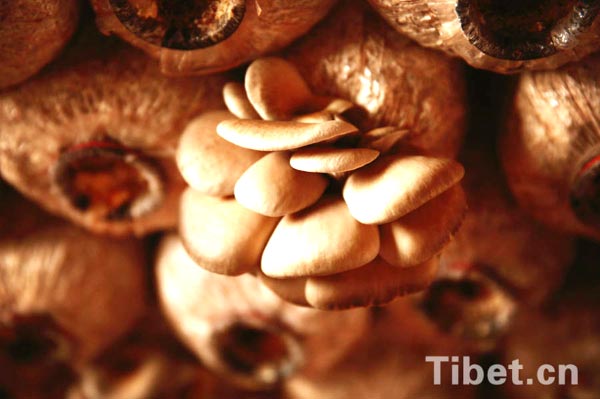 Photo shows fresh oyster mushrooms in greenhouses of Ongda village, Ridung township of eastern Tibet's Chamdo prefecture. [Photo/China Tibet Online]