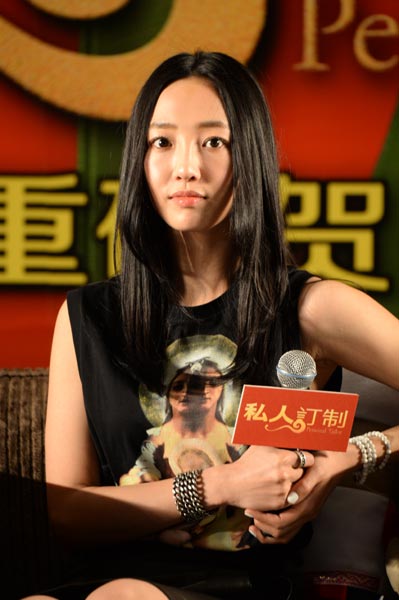 Cast member Bai Baihe promotes her latest film 'Personal Tailor,' directed by Feng Xiaogang, in Beijing on December 17, 2013. Photo provided to China Daily
"Vulgar" is a word critics have used when describing Feng's films, but Back to 1942 is the second of his works to be chosen as the mainland's entry for the Oscar for Best Foreign Language Film. The first one was Aftershock in 2010.
After breaking into the Chinese film scene in 1997 with urban comedy Dream Factory, Feng has been the best-received filmmaker at the domestic box office. In the decade since his debut, each film he has made become the highest-grossing movie of that year, with only a few exceptions, such as in 2004 when Stephen Chow made Kung Fu Hustle and in 2006 when Zhang Yimou made Curse of the Golden Flower. In the 1990s it became something of a tradition to watch a Feng Xiaogang film about the lives of the most ordinary urbanites in contemporary China at the end of the lunar year - as popular as eating dumplings and setting off firecrackers.
He has battled criticism that he is not a serious artist, but his box office sales prove he has many fans.
"Something I am very proud of is that for decades Chinese audiences have loved my films and the box office has proven that," he says.
"Do not underestimate our audience's discretion. If what they like is vulgar, I suggest that the academy set up an award for the most vulgar foreign language film, and if they gave me that award I would be happy to take it."
Personal Tailor will be released on Dec 19 in China and Dec 20 in North America.