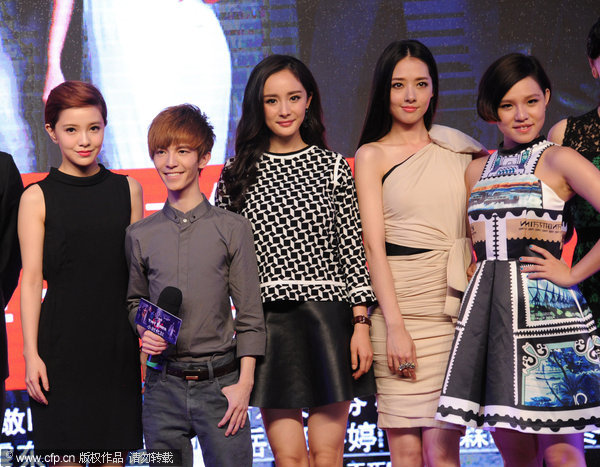 (L-R) Actress Guo Caijie, author and director Guo Jingming, Yang Mi, Guo Biting and Xie Yilin attend the premiere for Guo's Tiny Times 2 in Beijing on August 7, 2013.[Photo/CFP]
"Tiny Times 3," directed by Guo Jingming, has kicked off filming in Rome, Italy.
The film is the third installment of the Tiny Times series, which are based on Guo's own novels.
The series' three main actresses, Amber Kuo, Biting Guo and Sie Yi-Lin, return to round off the trilogy. Rumors say that Chinese actress Wang Luodan will join the cast, but this has been denied by producers of the film. People have to wait to see if Yang Mi, main actress from the former two sequels will star in the film.
With budget of 45 million yuan, the Tiny Times series earned a total of 483 million yuan after part two came out in June of this year.
For more coverages on Tiny Times, click here