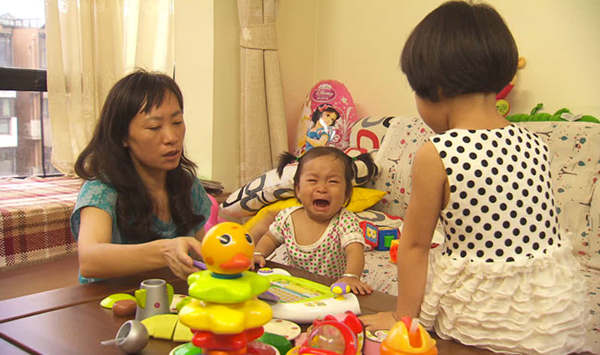 The first episode of Chinese Super Nanny features a family in Shanghai with working parents and two young daughters. Photo provided to China Daily
The popular child-rearing reality program, Super Nanny, is coming to China. Liu Zhihua catches up with the people involved to find out more about some unique Chinese characteristics in parenting.
Children are angels to parents, but sometimes, they can be little demons that drive grownups around the bend. In the TV reality show Super Nanny originally from the United Kingdom and aired in more than 40 countries, Jo Frost travels across the country to help desperate parents who are struggling with their children's behavior.
CCTV-2 will air the Chinese version of the show from Dec 13, and the producers believe it will be a hit.
"We've had so many programs on blind dates and singing talent shows, now it is time to provide viewers with serious scientific help on child-rearing," says Yang Yuancao, CEO of IPCN, the company that has brought Super Nanny to China. They have also brought other popular programs such as Voice of China.
"The show has no stars, but it is all real and is rooted in Chinese society to meet the needs of Chinese parents who have problems with childrearing," Yang says.
The first episode features a family in Shanghai comprising working parents, daughters aged 5 and 1, and their retired grandparents.
The adults are at a lost because the older daughter is ill-tempered, has bad eating habits, refuses to go to bed until late at night, and bullies her little sister.