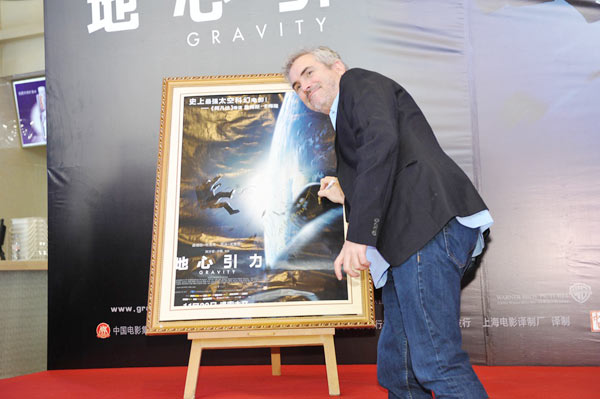 Director Alfonso Cuaron promotes his film Gravity in Beijing on November 10. Photo provided to chinadaily.com.cn
The director of a sci-fi blockbuster rejected suggestions that elements of the film were included just to appeal to an increasingly influential Chinese viewing audience.
Director Alfonso Cuaron was in Beijing on Monday to promote Gravity, which has grossed a remarkable $500 million worldwide since its US premiere on Oct 4.
The film, released in China on Nov 19, follows a US astronaut who finds refuge in the Chinese space station Tiangong and returns to Earth by the Chinese space ship Shenzhou.
Cuaron denies the storyline was just to win over the booming market, the second-biggest globally.
"When we were mapping out the story, we had to base it upon elements in space at that time," he said.
"We had the Hubble Space Telescope, the International Space Stations, Tiangong and Shenzhou. That's what was in space, this is way before China became sexy for the Hollywood box office."
Cuaron started developing the story of Gravity around 2008, when China's yearly box office was only 4.3 billion yuan ($680 million).
Since then, the country has seen a huge growth in box office revenue.
In 2012, box office revenue hit 17 billion yuan, making the country the second-largest film market.
Cuaron believes that the incorporation of Chinese elements are organic, and elaborates his opinion with the example of his use of 3D.
"There are a handful of films that use 3D organically, but most 3D films were 2D films converted to 3D for commercial purposes," he said.
"I know films that at the end of things incorporate Chinese elements just for the market, but in the case of Gravity, the original storyline was from the Hubble Space Telescope to the ISS, to the Tiangong, because that's what existed in space at that time."