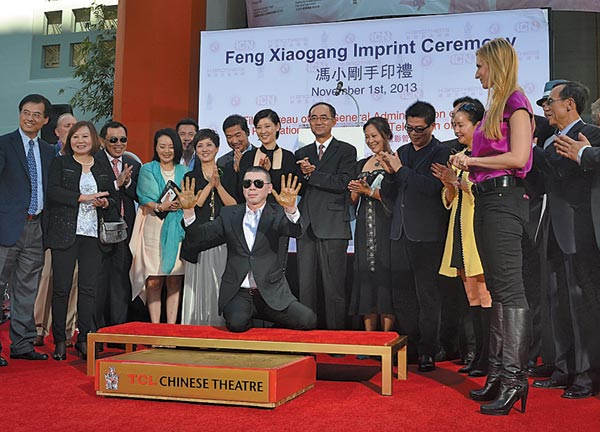 Chinese film director Feng Xiaogang left his handprints outside the TCL Chinese Theater in Hollywood. Provided to China Daily
Chinese film director Feng Xiaogang left his handprints in cement outside the TCL Chinese Theater on Nov 1 as groups of Chinese onlookers snapped photos of celebrities' names on the Avenue of Stars.
"Hollywood is a place of sunshine, beach, dreams coming true and endless creativity and innovation," Feng said at the ceremony. "I'm honored to join the people who have left their handprints at the theater."
Feng is the first Chinese film director to cement his hand and footprints at Hollywood's TCL Chinese Theater. Formerly Grumman's Chinese Theater and Mann's Chinese Theater, it has been home to many movie premieres since 1927 as well as Academy Awards ceremonies.
Among the theater's most distinctive features are concrete blocks set in the forecourt, bearing the signatures, footprints and handprints of popular film personalities from the 1920s until now.
Feng's handprint celebration inaugurated the three-day "Beijing Film Panorama in America" from Nov 1 to Nov 3. The TCL theater screened seven of Feng's trademark films with English subtitles including Back to 1942, Aftershock, If You Are the One II, The Banquet, A World without Thieves, Cellular and Assembly.
Related:
Ge You and Feng Xiaogang team up again
Chinese drama 'Back to 1942,' 75 others running for foreign language Oscar
Director Feng to helm CCTV annual gala
A true picture of turning Liu's fiction into Feng's film
Review: The grave side