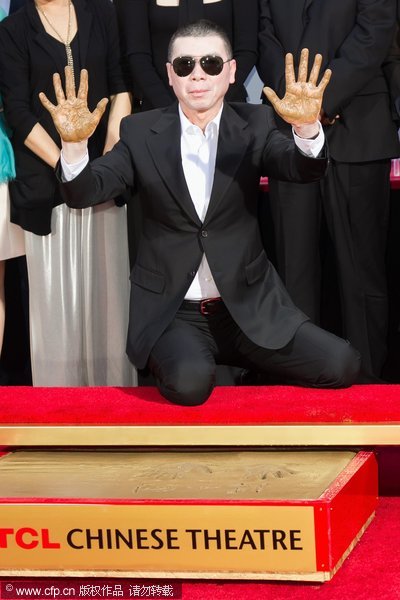 Director Feng Xiaogang attends a ceremony immortalizing him with hand and footprints at TCL Chinese Theatre at TCL Chinese Theatre on November 1, 2013 in Hollywood, California. [Photo/CFP]
The Beijing-born Feng is a highly successful and visionary film director whose comedic films have consistently topped box office ch
art
s in China over the last 20 years. He recently broke that mold by making drama or period drama films, such as the well-regarded Back to 1942, which was shown at the TCL theater on Friday afternoon.
Feng received a certificate of recognition from Los Angeles County Supervisor Mike Antonovich and the representative of Los Angeles Mayor Eric Garcetti.
"Los Angeles is the entertainment center of the world," Antonovich says. "The theater we're in today is very historic, beginning in 1927. Famous Hollywood stars, directors, producers left their handprint and signature at this facility, including Alfred Hitchcock, Steven Spielberg, Ron Howard and Clint Eastwood."
"The TCL Chinese Theater brings the world of entertainers together. China and the United States have a great partnership. We need to continue that and have more cooperation between us," he adds.
Alwyn Hight Kushner, president and chief operating officer of TCL Chinese Theater, acclaims herself a fan of Feng and says: "It's a trend that American and Chinese movie industry work together. TCL Chinese Theater just screened Jackie Chan's CZ12 which was warmly received by the local audience."
Feng's actress wife Xu Fan, Wang Zhongjun, chairman and CEO of Huayi Brothers Media Group, and other entertainment stars, including Tang Guoqiang, Zhang Guoli and Deng Jie, joined the celebration.
Related:
Ge You and Feng Xiaogang team up again
Chinese drama 'Back to 1942,' 75 others running for foreign language Oscar
Director Feng to helm CCTV annual gala
A true picture of turning Liu's fiction into Feng's film
Review:The grave side