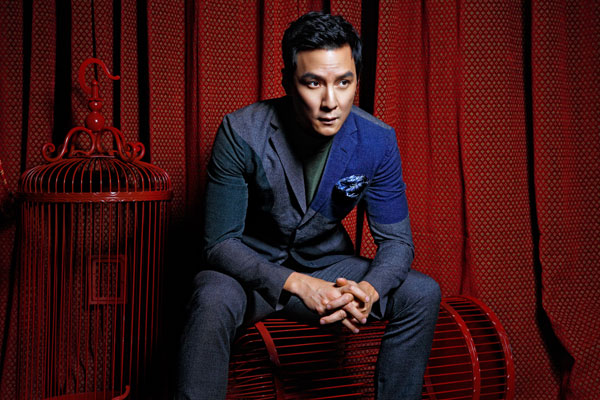 Danial Wu proves he is more than a pretty face. Tony Zhao / For Dhina Daily
Hong Kong actor Daniel Wu's new film is reflective of his career, depicting a young man's effort to control his own life, Liu Wei reports. 
Good-looking actors often perform a passive job. Filmmakers tend not to assign them complicated roles. The audience remains too focused on their pretty faces to notice their acting expertise.
For a long time Daniel Wu was a victim of his "look".
When 15 years ago he starred in his first film Bishonen, he was immediately defined as a heartthrob, despite his inner calling to be someone subversive.
He was stereotyped that way with good reason: He was young, handsome, sporty, a new graduate from the University of Oregon's architecture department and founder of its kung fu club.
He has since starred in many romantic comedies, playing the kind of boyfriend that every girl would like to take home to meet her mom, or even dad.
In 2002's Love Undercover, Wu played a mogul who falls in love with a carefree undercover policewoman. It was a smash hit, but he does not like the film at all.
"After my honeymoon in the entertainment industry I began asking myself why I kept doing films I don't like. What's the point of it?"
One reason Wu, a US-born Chinese, had traveled to Hong Kong after graduation was to witness the city's handover in 1997, but a more important one was to discover what he really felt passionate about doing. Architecture was not the answer.
"I was happy in my college days, because I controlled every project with my own creativity," he says, "but when I worked as an intern in architecture firms I found there were so many restrictions, from building codes, to clients and the boss. One of my friends, who works in a large firm, drew a window for two years. I would have gone crazy."
For more Star Talk series, click here