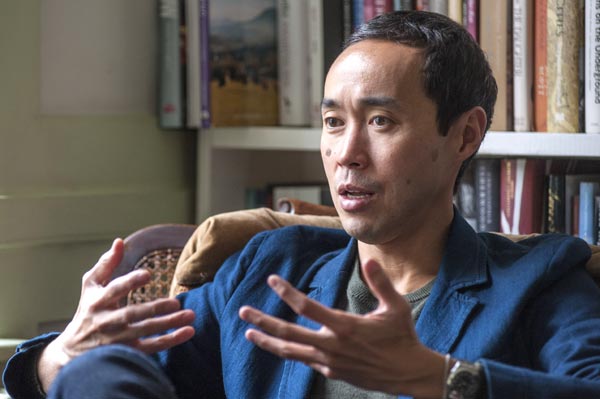 Tash Aw says being of Chinese origin has had a bearing on the way he writes. Nick J. B. Moore / China Daily
Award-winning author Tash Aw's latest book, Five Star Billionaire, paints a contrasting picture of China to the binary impression of the country that most people hold. Andrew Moody reports.
Tash Aw says that for many people, China is now replacing the United States as the "promised land" to go, live and pursue their dreams. The 41-year-old Whitbread prize-winning Chinese-Malaysian novelist argues the world's second-largest economy now offers that sense of opportunity that New York had at the beginning of the 20th century. "I would say that for many people now, particularly Southeast Asians, China is replacing America as the promised land," he says.
"For a lot of Malaysian-Chinese, the No 1 choice now would be China."
Aw was speaking on the top floor of the Georgian offices of his literary agent in London's Covent Garden about his third and latest novel, Five Star Billionaire, which is set in contemporary Shanghai. 
It follows the complex interactions between five characters, all of them Malaysian from a lowly salon worker to a shadowy billionaire author of a self-help book, from which the book gets its title.
The novel, perhaps the leading fiction work about China published in the West this year, is seen by many critics as a comment on modern Chinese society with some arguing it shows up a certain superficiality beneath the edifice.
"I've heard a few people say that to me. I disagree with that reading. I was very careful not to make any judgment. I wanted the book to reflect essentially what I think of China.
"The book is not a judgment on materialism or money. Money is ultimately very empowering for the characters. They just have to negotiate their relationship with it."
Aw had two writers' residences in Shanghai, in 2009 and 2011, while writing the novel and had the opportunity to experience Chinese society itself.
"The moment I arrived there, I was so excited to see the things that were happening there, both the good and the bad. It was so unexpected for me, this whole melting pot and a sense that barriers were crumbling and the possibilities were limitless or, at least, that is the illusion one has."
The author says this is in marked contrast to the often binary picture of China that even many educated people in the West hold.
Aw, the son of an engineer, was born in Taipei, and was brought up in Kuala Lumpur, but his Chinese connections are deep-rooted.
"On one side my grandparents left China in the 1920s when they were children and on the other side, they left the generation before that. So you know, they are not ancient ancestors," he says.
He went on to study law at Cambridge University but on completing his degree moved to London to become a writer.