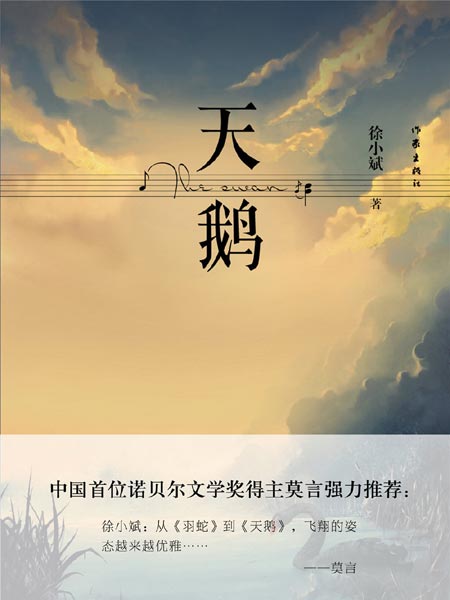 Xu's latest novel, The Swan, explores the theme of true love against the age of materialism.
The Swan is the most painful novel Xu Xiaobin has ever written. But like her other books, it is filled with magical romanticism. Mei Jia finds out what inspires the first Lu Xun Literature Prize winner.
Xu Xiaobin is a unique Chinese writer. She's different not because she writes from a female perspective, not because she considers herself an outcast of her family, tradition and her time, and not because of the inerasable memory of the "cultural revolution" (1966-76) often repeated in her works.
She is special because she represents an oft-neglected strength in contemporary Chinese writing: romanticism and even magical romanticism.
"Romanticism is on the lower spectrum when compared with the status of realism in Chinese literature," literary critic Chen Xiaoming says. "Xu fills the blank."
Born in 1953 in Beijing, Xu is the first Lu Xun Literature Prize winner and has been productive in the 32 years since her debut. She's also the author Simon & Schuster first chose to list in its key international publishing plan.
Xu is often invited to speak at international book fairs and literary festivals to represent the female voice of Chinese writing.
"The foreign interest in female writers has been rising since the late 1990s," Xu says. "I was among the first to speak to an international audience about the real situation of Chinese women."
"I believe both my speeches and my stories show them that Chinese women are independent, intelligent and fashionable, with a pioneering spirit."
Some critics opine that those who think Chinese lack imagination will be proven wrong when they read Xu's works.
In her new novel, The Swan, Xu explores a different way of writing compared to her previous works.
"The writing is no more heavily rhetorical and complicated. It's a pure love story, against the age of materialism, with simple language," Xu says.
But she reveals it's the most painful novel to finish. She even paused for four years before resuming writing.
"I stopped to find out what is true love in our time while trying to finish the 'book of love'," she says. The Swan movement by Charles Saint-Saens gave her the inspiration to carry on writing.
The story, set in Beijing and the mysterious Sayram Lake at Yili, the Xinjiang Uygur autonomous region, is about love, sex and death between a 20-something soldier and a female composer in her 40s.