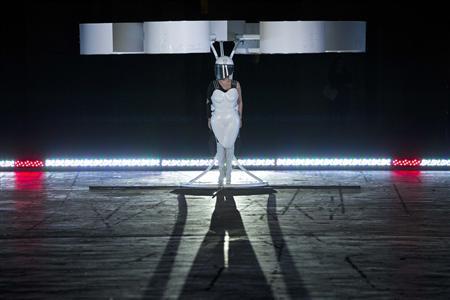 Lady Gaga prepares to fly with the Volantis, a flying dress, at the "artRave" release event of her new album "ARTPOP" in New York November 10, 2013. [Photo/Agencies]
On the eve of her fourth studio album's release, pop diva Lady Gaga lived up to her reputation for doing things on a grand scale on Sunday as she donned what she called the world's first flying dress.
Gaga, known as much for her off-the-wall performances and outrageous costumes as for her music, was strapped into a contraption mounted on a flat disk and fronted by a molded body suit. It hoisted her aloft before a horde of media and industry types.
The dress, which she dubbed "VOLANTIS," may only have risen a few feet off the ground and propelled her perhaps 20 feet before alighting. But no matter, Gaga was, well, gaga, letting out a joyous screech after her "flight" in a warehouse at the decidedly unglamorous Brooklyn Navy Yard.
Calling VOLANTIS "an amazing ambassador for creativity, Gaga, born Stefani Germanotta, said that while her latest sartorial statement "is a vehicle, she essentially is a metaphor for me." She explained that Gaga was serving as a voice for "the youth of the world," especially those "who don't think they'll ever penetrate the corporate world."
The pop star has made world youth, especially the disenfranchised, a personal cause. Among other initiatives, she has set up a foundation and lobbied extensively against bullying.
Related:
Lady Gaga is top earning celebrity under 30: Forbes
Lady Gaga to perform at MTV awards for first time since surgery