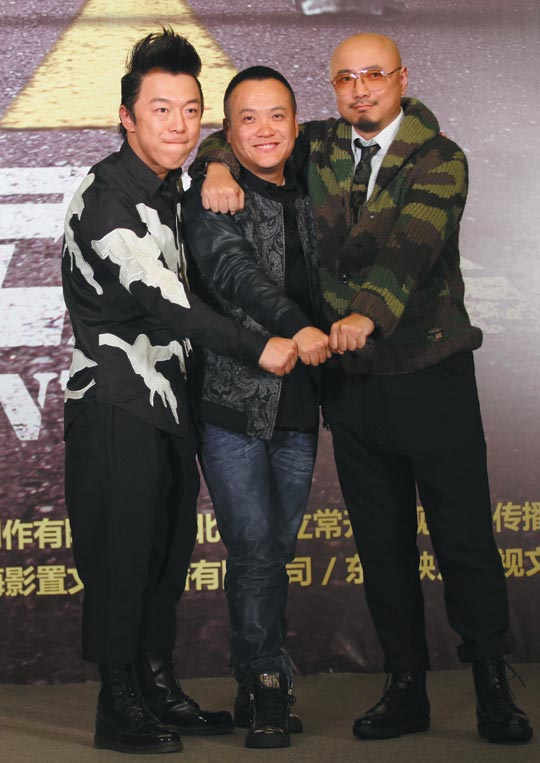 Director Ning Hao (center) shares the happy moment with lead actors Huang Bo (left) and Xu Zheng at a news conference for the release of his road movie No Man's Land in Beijing. Jiang Dong / China Daily
Mainland director Ning Hao's No Man's Land will be screened three-and-a-half years after its announced release date.
The film, completed in 2010, was planned for a release that year, but so far it has not been shown in theaters.
Officials of the State Administration of Press, Publication, Radio, Film and Television never commented on the film, but Zhao Baohua, film expert and member of the censoring committee of the administration, was quoted as saying that the film "has no character who is not depraved".
The film will premiere in China on Dec 3, confronting a couple of domestic films: Feng Xiaogang's comedy Personal Tailor and Daniel Wu's futuristic thriller Control.
Two lead actors in the film, Xu Zheng and Huang Bo, have seen their popularity rise in the past three years.
Xu's directorial debut Lost in Thailand grossed $203 million and was the highest-grossing film of 2012 in China, only slightly less than Titanic in 3-D.
Huang, by starring in Thailand and another box-office hit, Journey to the West: Conquering the Demons directed by Stephen Chow, has become a top comedian in China.
Related:
'Love you for loving me' premieres
Andy Lau: Taking risks in a firestorm
Chinese movie director makes his mark in Hollywood