More Chinese are embracing the technology and choosing to build their own machines. Deng Zhangyu reports.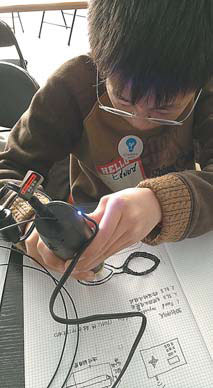 The 3-D printing pen is a good learning tool for children in courses assisted by Creatica. Provided to China Daily
Until recently, 3-D printing sounded like a magical technology to many Chinese - one used to create everything from houses to human organs. But the arrival of desktop-size 3-D printers is bringing the technology into people's homes, where they put it to all kinds of uses. A young father uses a 3-D printer to make models of his son at different stages of his life. An architect prints a miniature version of a building he is designing. A man prints a copy of a part he needs for a machine designed to water plants at a fixed time.
Many owners of 3-D printers are wealthy young men, who like to show off the expensive technology to their friends. The printers can cost up to 200,000 yuan ($32,000), and understanding how to operate the machines takes time.
Despite the high cost and learning curve, some people use 3-D printers for fun, while others use them for educational purposes or as creative outlets.
Zhang Ming, who made his first 3-D printer in 2011, was one of the first people in China to make his own desktop-size machine. "For people who like making things by hand, a 3-D printer is really convenient for producing parts that are difficult to find," the 28-year-old says.
Zhang resigned from a bank in 2011 so he could devote all of his time to making 3-D printers, which he thought could make a difference in people's lives.
The 3-D printers Zhang makes cost around 1,000 yuan to build, and he can sell them at much cheaper prices than large manufacturers.
"I didn't design the 3-D printer. I finished it by following instructions provided on a foreign website," he says.
Zhang shared the instructions on how to build a 3-D printer on his open-source website, Dazhi.com. While most open-source websites on the mainland are copies of English versions from other countries, Zhang built his site using his own information.
Zhang launched his website in April. Although it doesn't have many users, Zhang says he enjoys sharing information about the printers he builds and tips on building items using the technology.
"I just do it for fun," Zhang says. "I will be very happy if people with the same interests share things via my website."
In addition to desktop-size 3-D printers, 3-D printing pens are also gaining popularity. Jiang Feizuo builds his own 3-D printing pens and sells them.
The 25-year-old's customers include artists - who use the pens to make sculptures - designers, architects and people in the filmmaking industry. Some people view 3-D printing pens as toys and buy them as gifts for children. The pens can be a good learning tool for children, Jiang says.
Most of Jiang's orders come from overseas, and he said his busiest time of the year is the Christmas holiday season. "People in the West are comparably wealthier and have more time to do their own things. Chinese people are all busy working," says Jiang.
Jiang says he came up with the idea to make 3-D printing pens when he was a student in Australia, after he saw his landlord using a 3-D printer to make pads and legs for chairs.
Jiang's pens cost 400 yuan. Although Chinese only account for a small part of his customer base, Jiang said their numbers are growing.
Chinese schools are also embracing 3-D printing technology.
Last year, a top middle school in Beijing - the High School Affiliated to Renmin University of China - offered a course that teaches students how to use 3-D printers.
The course was launched with assistance from Creatica, an education company that encourages children and teenagers to build stuff by hand. The course has been a hit among students, and many schools in Beijing have formed partnerships with Creatica, says Wei Qiao, co-founder of the company.
"You can't imagine how popular 3-D printing is among kids and teenagers," Wei says, adding that the technology allows children to see the world more vividly.
While young Chinese are embracing 3-D printing, there are still many issues facing its development.
Because of a lack of open-source websites on the mainland, some Chinese are forced to use foreign open source websites.
The websites are often in English, so understanding them can be difficult for Chinese with limited English skills. Also, there aren't many options for after-sales service, so those who build their own 3-D printers must make their own repairs when problems arise.
The technology is also time-consuming. Printing a single object can take up to eight hours.
"In the future, with more people joining the do-it-yourself movement, 3-D printers may one day become common household items," Zhang says.
However, Jiang says he believes 3-D printing will become a mainstream service, with 3-D printing shops opening on street corners next to the businesses that print paper and scan documents.