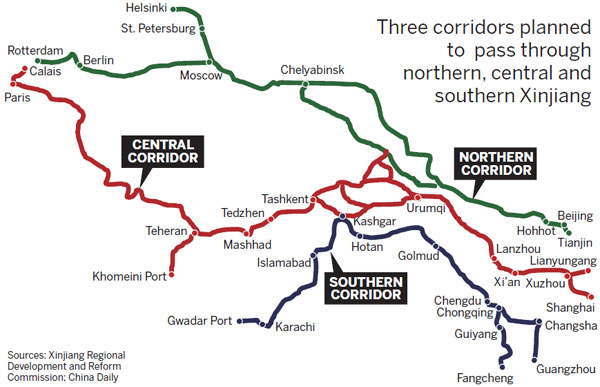 China has allocated funds to do preliminary research on building an international railway connecting the westernmost city of Kashgar in the Xinjiang Uygur autonomous region with Pakistan's deep-sea Gwadar Port on the Arabian Sea, according to the director of Xinjiang's regional development and reform commission.
"The 1,800-kilometer China-Pakistan railway is planned to also pass through Pakistan's capital of Islamabad and Karachi," Zhang Chunlin said as the two-day International Seminar on the Silk Road Economic Belt commenced on Thursday in Urumqi, Xinjiang's capital.
"Although the cost of constructing the railway is expected to be high due to the hostile environment and complicated geographic conditions, the study of the project has already started," Zhang said.
The railway, which cannot avoid running through the Pamir Plateau and Karakoram Mountains, will be one of the hardest to build but most vital transportation infrastructures on the China-Pakistan corridor along China's newly proposed Silk Road Economic Belt, he added.
"China and Pakistan will co-fund the railway construction. Building oil and gas pipelines between Gwadar Port and China is also on the agenda," Zhang said.
Control of Gwadar Port was given to China and an agreement was signed with China Overseas Ports Holding Co on May 16, 2013, to transfer operational rights from the Port Authority of Singapore.
The move means China now is running a port just opposite the Gulf of Oman, an important route for oil tankers.
The speed of road and railway construction in Xinjiang was significantly increased after September 2013, when President Xi Jinping raised the idea of the economic belt, Zhang said.
Xi proposed reviving the ancient trade routes connecting China, Central Asia and Europe.
To become a transportation hub and China's core area on the economic belt, the government has decided to develop three main corridors through southern, central and northern Xinjiang, which connects China with Russia, Europe and Pakistan.
Work is also due to begin soon on the long-planned China-Kyrgyzstan-Uzbekistan railway.
The region, which borders eight countries, also plans to open three new land ports to Kyrgyzstan, Kazakhstan and Russia.
"We will consider opening the ports to Afghanistan and India once social stability can be ensured. After all, openness is the foundation of boosting trade," Zhang said.