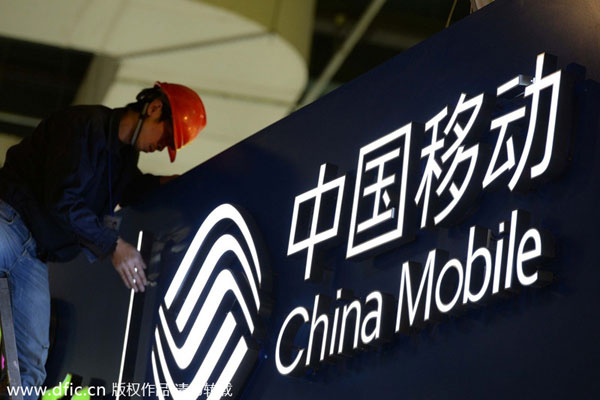 A Chinese worker installs a signboard of China Mobile one day before the opening of the 2nd China (Shanghai) International Technology Fair (CSITF) in Shanghai, April 23, 2014. [Photo/IC]
Competition in China's fourth-generation telecommunications market is set to heat up after the regulator awarded LTE-FDD (long-term evolution frequency-division duplexing) trial permits to local carriers on Friday, industry sources said.
The long-awaited permits will help the nation's two smaller carriers to challenge China Mobile Corp, the world's biggest telecom operator by subscriber numbers.
The Ministry of Industry and Information Technology said it will allow China Telecom Corp Ltd and China United Network Communications Group Co Ltd, also known as China Unicom, to test a joint 4G network using LTE-FDD and TD-LTE technologies in 16 cities. Those cities weren't identified.
Permission for the trial run of FDD networks isn't equivalent to a license. The ministry said it will consider giving out FDD licenses in the future at the carriers' request.
China launched 4G services about six months ago but only allowed carriers to use TD-LTE technology, a domestic standard. The FDD technology is more accepted globally. Countries such as the United States, Germany, South Korea and Brazil all use FDD networks.
"The new 4G standard will enable us to compete with the leaders and better serve our customers," said Wang Xiaochu, chairman of China Telecom. "The 'late spring' of FDD technology will not hinder our 4G business. We have already teamed up with smartphone makers and retail partners to help us deliver more 4G devices in China."
Analysts believe the introduction of the new standard will alter the landscape of the country's young but fast-growing 4G market.
"The FDD permission came a little late for China Telecom and China Unicom, the two longstanding supporters of the technology," said Xiang Ligang, a telecom researcher and founder of industry site CCTime.com.
Introducing a new standard will help both companies to "rapidly expand" 4G services as the carriers have already built several FDD base stations in some Chinese cities, according to Xiang. The TD-LTE based network will focus on high-end services after FDD enters the market, he predicted.
China Mobile is rapidly expanding its 4G market share using the TD-LTE network.