Siblings reunited after dead parents' DNA proves link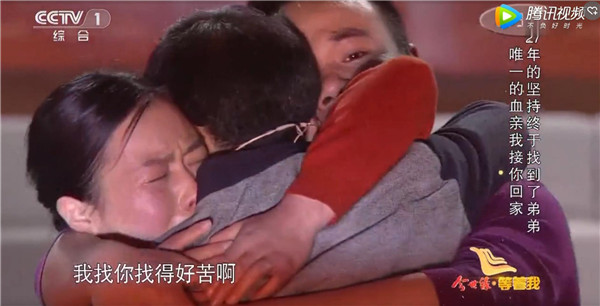 An emotional reunion between Wu Jiayu and her long, lost brother Wu Jiayan on CCTV program Waiting for Me broadcast on April 16, 2017. [Photo from web]
A woman in Central China's Hubei province has been reunited with her younger brother, 27 years after he was taken at a railway station and trafficked.
The siblings were reunited on CCTV program Waiting for Me on Sunday ending years of searching which even included getting a DNA test using a sample from their deceased parents.
Current technology is not able to identify relatives using only their own DNA sample. It's the first time in China that DNA taken from the grave has successfully helped connect family members who have lost contact.
In the television program, based on seeking long lost relatives or friends, 31-year-old sister Wu Jiayu said in tears: "My brother, I finally found you. I will take you to the grave of our parents, telling them that you are back. Now they can rest in peace without any regrets."
Wu went missing in the summer of 1990 at Wuchang Railway Station when he was just 2 years old. Wu's father had been planning to take the two children to visit their mother who worked in North China's Shanxi province.
The parents quit their job and left their daughter with her grandparents to hit the road and search for their son.
They traveled many places and wrote of their heartbreak.
"My dear son Yanyan, I have dreamt about you all the time. Where are you indeed? My dear Yanyan, please remember mom's face. Mom is determined to find you," Wu Jiayu read from one of her mother's diaries on the show.
They tried to find their trafficked son for two years, but when their search efforts failed, the couple's grief overwhelmed them and they commit suicide.
Though Wu Jiayu lost her parents at the age of 6, she knows well her parents' unfulfilled wishes. She has kept her parents' diaries and continued to look for her brother.
"Though parents left us forever, our home won't vanish with them," she said.
In 2015, she uploaded her DNA information into the public security official website for locating trafficked or missing children.
Meanwhile, her brother Wu Jiayan, who had been renamed Lin Yihui after being trafficked to East China's Fujian province, was suspicious about the differences in appearance between him and his sisters in the new family. At almost the same time as Wu Jiayu, he added his DNA profile to the site.
Due to the technology barrier, Wu Jiayu faced great ethical pressure as she decided whether to retreive DNA from their parents buried long ago.
With the help of local police, the deceased couple were identified as the birth parents of Lin, the long-disconnected son of the Wu family.