Xi's book praised for its vision at Turkish launch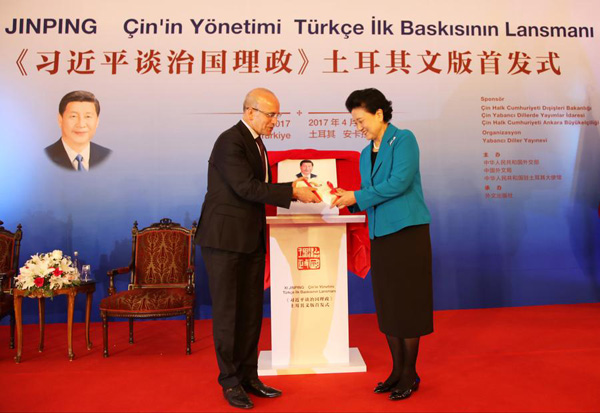 Vice-Premier Liu Yandong and Turkish Deputy Prime Minister Mehmet Simsek attend the publication ceremony of the Turkish-language version of President Xi Jinping's book Xi Jinping: The Governance of China in the Turkish capital Ankara on April 17, 2017. [Photo/Xinhua]
The publication ceremony of the Turkish-language version of President Xi Jinping's book
Xi Jinping: The Governance of China
was held in the Turkish capital Ankara on Monday and was attended by Vice-Premier Liu Yandong and Turkish Deputy Prime Minister Mehmet Simsek.
Liu is paying official visits to Turkey, Jordan, Iran and South Africa from Monday to April 27.
The book was released as bilateral trade reached $19.5 billion last year, and the two countries have maintained frequent high-level exchanges.
The vice-premier said on Monday that Xi has thought about, discussed and proposed many new ideas and strategies to respond to major issues regarding the development of the Communist Party of China and the country.
The publishing of the Turkish version of the book gives Turkish readers access to the Chinese leader's ideas on governance, the dreams and pursuits of the Chinese nation as well as the goals and tasks of China's reform and development, Liu said.
The release will boost strengthening exchanges between China and Turkey regarding governance, and will exert lasting and profound influence on deepening mutual understanding of the two peoples and cementing the China-Turkey strategic cooperative partnership, Liu added.
Simsek said China's reform and opening up has recorded great achievements, and its significance for the world's economy and politics has been increasing.
The book offers a window for Turkish people to better understand China's political vision, its view and path on development, and it effectively interprets and showcases the achievement and experience of China's progress in recent years, Simsek said.
He said Turkey is willing to boost exchanges with China on sharing experience of governance as well as participating in the building of the Belt and Road - namely the Silk Road Economic Belt and the 21st Century Maritime Silk Road - and this will bring new opportunities for bilateral ties.
Prior to the debut of the Turkish version, the Cambodian, Thai and Urdu language versions of the book were released respectively in Cambodia, Thailand and Pakistan earlier this month.
The book contains 79 speeches, talks, interviews, notes and letters of the Chinese leader between November 2012 and June 2014.
More than 6.2 million copies have been distributed around the world.