School safety to be improved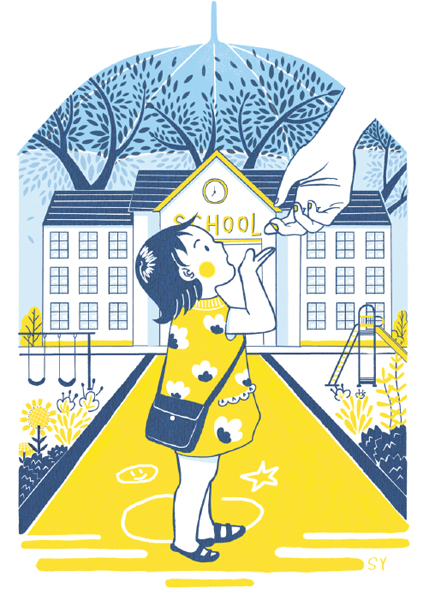 Students who commit violent acts on campus will be severely punished, according to the central government, which introduced a number of measures to ensure safety in schools at the most recent executive meeting of the State Council, China's Cabinet.
Ensuring safety in primary and middle schools and kindergartens should be a public security priority, according to a statement released after the meeting, presided over by Premier Li Keqiang.
"Campus safety concerns the healthy development of millions of students and the happiness of their families. Schools must be solidly built, like those in areas of post-earthquake reconstruction, and they should also be the most secure places when it comes to safety," Li told the meeting.
The statement said principals are responsible for campus safety, while students should be taught to value life and the rights of their classmates. It added that schools must employ the "necessary personnel" and use closed-circuit TV to keep a close watch on potential dangers and safeguard students' safety.
School buildings must comply with national safety and quality standards, while builders, designers and supervisors will hold lifelong liability for any failures, it added.
In addition to classes related to safety, schools will be required to conduct drills to alleviate the dangers posed by earthquakes, fire and stampedes, and more police officers should be deployed near schools.
Security risks on campus must be closely scrutinized, and the education and health authorities have been ordered to monitor and check sanitation, disease prevention and food safety in educational establishments for younger students.
A number of incidents of campus violence and bullying have put school safety firmly in the spotlight. The latest occurred on April 1 in Luzhou, Sichuan province, when a student surnamed Zhao killed himself by jumping from the top of a building at Taifu Middle School. Despite an official announcement to that effect, the incident aroused suspicions among members of the public that the boy had been beaten to death by five other students, who were believed to have bullied him.
The incident led to heated online debate about an investigation into the cause of death conducted by the local police and the untimely disclosure of information by the authorities.
At the State Council meeting, Li called for an effective mechanism to be established to curb bullying, especially acts of violence, by disclosure, intervention and prevention. He added that the relevant departments should respond to public concerns by disclosing the results of investigations in a timely manner.
In the Government Work Report he delivered in March last year, Li added "safety" to the chapter about education, and stressed "families, schools, the government and society should help to cultivate a secure and healthy environment in which children can grow up and make a contribution to the country".
The meeting sent a warning to "naughty children", who either bully their peers or take advantage of children who are less developed physically or come from deprived families, said Zheng Zonggen, a teacher at Wenfeng High School in Huoshan county, Anhui province.
Surveillance equipment is necessary because teachers cannot watch students 24 hours a day, he said, adding that a punishment mechanism should be established to discipline bullies and allow students to understand the consequences of beating or mistreating their peers, he added.
Xiong Bingqi, vice-president of the 21st Century Education Research Institute, said that in addition to the equipment outlined at the meeting, more money should be spent to help schools eliminate risks, such as bullying and unsafe food.
Bullying and campus safety require more effective implementation of the law, and violators should be subject to police action, rather than punishments handed out by their principals or teachers, he said.
Teachers and schools often conduct investigations into bullying but many perpetrators escape punishment, setting a bad example and giving the impression that violators can escape severe penalties, which further encourages bullying, he added.
Zheng said: "Lessons will be learned to reduce the likelihood of these incidents occurring. Anyone who bullies their peers will be punished in accordance with the law."