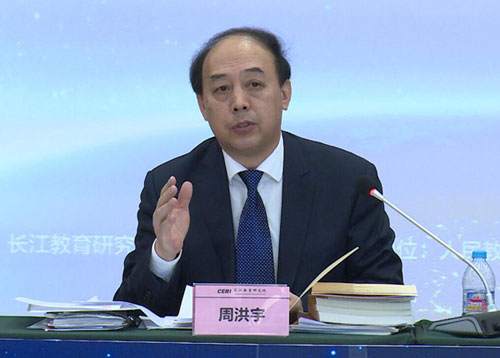 Professor Zhou Hongyu, president of the Changjiang Educational Research Institute and a deputy to NPC. [Photo provided to chinadaily.com.cn]
Professor Zhou Hongyu, president of the Changjiang Educational Research Institute and a deputy to the National People's Congress, the country's top legistlature, has prepared five legislative proposals and 20 suggestions for the 2017 National Two Sessions.
Two educational proposals -- setting up "campus security regulation" and enhancing legislation of internet education -- could receive much attention from parents and even the general public.
Paying attention to educating parents
School bullying has been frequently reported in China in recent years and the age of abusers has become younger. Professor Zhou suggested that it is because there is lack of awareness in families, schools and society. Only when all three organs are educated school violence will drop.
"Parents are responsible for teaching their children respect, empathy and right and wrong, which means raising awareness of parents should be taken seriously."
Asked about the recent public proposal floated by the Ministry of public Security to lower the detention age to 14, Professor Zhou said this will not solve the problem. He said instead political measures such as establishing educational regulations should be accelerated.
Eliminating bullying is a protracted war
Although Professor Zhou said school violence can come down through efforts by family, school and social education, he admitted that bullying cannot be eliminated totally even if the three parts of the society take better measures.
Education and social background is not the only reason of bullying. "Bullying is a worldwide issue and is even more serious in some developed countries such as Japan and the US." Professor Zhou said, "Children in these countries have different backgrounds and environment from Chinese students, which means there are some common elements that trigger school violence that we have not yet figured out."
Professor Zhou encouraged people to view bullying from different perspectives to better understand the problem, "only through which can we discover the real reason of bullying and solve it from the root."
"We have to be ready for a protracted war on this issue," Professor Zhou added.
Establishing and improving internet education regulations
Internet education has been popular in China since the "Internet +" idea was put forward.
Professor Zhou said internet education has become a hot issue which brings both benefits and dangers at a time when schools and enterprises are largely promoting it.
Some business institutes are using the opportunity to obtain advantage through nefarious ways.
"Regulations and rules on internet education are still not well-established, which should quickly be listed on agendas by the government to ensure the sustainable development of such education," Professor Zhou suggested.
He also said that the government should obtain advice and suggestion of schools and related bodies to carry out better and practical internet education regulations.
Traditional and internet education
According to Professor Zhou, internet education is a teaching method and it may form an internet effect in the future, which encourages educational experts and scholars to re-estimate and re-analyze its relation with traditional education.
"I personally agree that the two education form complement each other." He said.
The traditional education system, including class teaching system, credit system and elective system, were established through long-term development and are still playing a positive role in education, which cannot be replaced by another new system.
Professor Zhou said the core elements of education contain human and teaching contents. The role of human -- learners and educators -- are the same in both traditional and internet education and the only difference lies in teaching method -- traditional and modern, "I don't think the traditional method only has negative effects and should be displaced."
Professor Zhou added, "Traditional teaching form is developing and I think even in the future, the two teaching forms will keep their complementary relations."