Lankao sets example for impoverished areas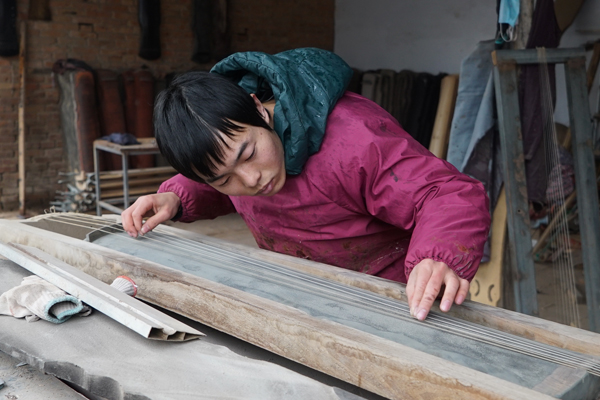 Xu Yachong, a resident in Lankao, Henan province, tunes a guqin, a seven-stringed Chinese instrument, in December. [Photo by Li Xiupeng/China Daily]
Folk instruments have helped lift families above poverty line
Fame doesn't always translate into wealth.
Few counties in China are as well-known as Lankao in Henan province. This is thanks to Jiao Yulu, the county's Party chief from 1962 until his death in 1965, who urged locals to plant paulownia - a deciduous tree with large, heart-shaped leaves - to guard against sandstorms and improve soil quality.
His story was featured on the front page of People's Daily when he died of liver cancer. Both he and the county have been household names ever since.
However, partly due to the harsh natural environment, Lankao's economy remained sluggish, and it was listed as an impoverished county in 2002.
With great attention from the central leadership - President Xi Jinping has visited three times - comprehensive policy support and the endeavors of local people, the poverty rate was reduced from 11.8 percent in 2014 to 1.27 percent now, Henan's poverty-alleviation authority announced on Monday.
As such, Lankao became the country's second county, after Jinggangshan in Jiangxi province, to be removed from the list of impoverished counties.
A household is considered poor if it has an average annual income of less than 3,000 yuan ($440) per person. A county can be removed from the list if its impoverished rate is less than 2 percent.
Data on Lankao was verified by the Chinese Academy of Sciences' Institute of Geographic Sciences and Natural Resources Research, which was authorized by the State Council Leading Group Office of Poverty Alleviation and Development to assess the statistics.
According to the UN Millennium Development Goals Report 2015, the proportion of people living in extreme poverty in China fell from 61 percent in 1990 to 4.2 percent in 2014.
Composers of destiny
The route out of poverty varies from region to region. For many households in Lankao, paulownia has turned out to be a source of wealth.
Located near the Yellow River, the soil in Lankao is fine, while the temperature varies greatly between day and night, which makes paulownia wood perfect for producing folk instruments.
Xu Wenxian, 60, is one of the beneficiaries. He used to work for the village head, who owns a small instrument-making business. However, his wage could not cover the medical expenses of his wife, Li Lanxiang, who has a chronic blood disease.
As a vastly experienced instrument maker, he was offered a 100,000 yuan interest-free loan by the county government and encouraged to start a family business making guzheng, a traditional stringed instrument.
"I knew I could make guzheng, but I was not sure whether I could handle the business. I was a bit intimidated at first," Xu said.
It took him less than a year to repay the loan, and now the business is a five-person team: Xu, his son and daughter-in-law,and two part-time workers. As the family has become more wealthy, Li's spiritual and physical condition has improved.
In Fanchang village, the most famous instrument-making neighborhood in Lankao, more than 50 families, many of which used to struggle financially, have started businesses and become the composers of their own destiny.
Targeted alleviation
In 2014, Xi stressed that targeted poverty-alleviation is crucial to helping people who remain below the poverty line. Like many poverty-stricken areas across the country, Lankao came up with comprehensive measures to implement the strategy.
Before offering favorable financial, education and health policies for poor families, the first and most important step is to accurately identify who qualifies for such benefits, according to Zhou Yunfeng, an official in charge of poverty-alleviation in Fanchang.
"We included families who hadn't registered originally, but had legitimate financial difficulties. Meanwhile, we also reviewed each submitted case carefully and those who had bought a house in the county or bought cars were all disqualified."
A total of 71 households applied to be recognized as poor, but 12 of them were rejected, Zhou said.
"Some families are well-off, but refuse to take care of their parents, which is also unacceptable. We are strict in rejecting anyone looking for a free ride."
Once recognized as poor families, they are entitled to a wide range of support, from student subsidies to reimbursement for migrant workers' travel costs.
With the implementation of targeted poverty-alleviation, China lifted 12.4 million people in rural areas above the poverty line last year alone. However, there were still 43.4 million people living in poverty as of December.
China plans to lift another 10 million people in rural areas out of poverty this year, according to the Government Work Report delivered by Premier Li Keqiang.
Returning home
The booming instrument-making industry in Lankao has not only lifted many people out of poverty, but also brought many people back home.
Xu Yushun, a villager in Fanchang, used to be a porter at an aquatics company in Yantai, Shandong province, while his wife worked as a cleaner in a supermarket. Their two sons worked in an electronics plant in Kunshan, Jiangsu province.
However, the youngest son, Xu Yachong, was interested in folk instruments and music. He worked as an apprentice for a year in 2010 and progressed quickly.
The family then reunited in 2011 to start their family workshop at home, producing guqin, another traditional stringed instrument.
"I still remember how excited we were when we successfully sold our first guqin. We transported it to Beijing and sold it for 10,000 yuan," said Xu Yachong.
Unlike the business owners, villager Liang Yingfeng is still employed by a local company as a guzheng maker.
Yet Liang, who used to be truck driver in Shijiazhuang, Hebei province, said it is much better to work in his hometown.
"The wage is higher than before and I can expect to earn more as I become more skilled. Most important is that we don't leave our children behind at home anymore," said Liang, a father of two.