The rundown village with a heart of gold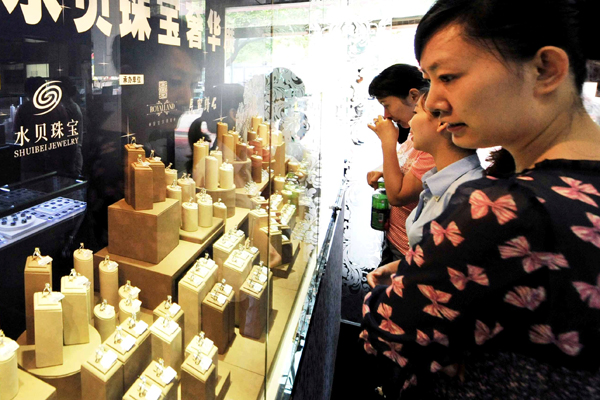 Customers examine jewelry in Shuibei village, Guangdong province, once a leading production center in China. [Photo by Chen Yehua/Xinhua]
First-time visitors to Shuibei village in Shenzhen, southern Guangdong province, may be a little disconcerted by the sight that greets them. That's because the dilapidated six-story buildings that line both sides of its narrow street seem at odds with Shuibei's high-end reputation as "China's No 1 jewelry village".
For nearly three decades, this village-in-a-city has been a national hub of jewelry production, exhibition and trade. More than 50 percent of the high-end goods in the country's wholesale markets come from Shuibei.
However, over the past three years, business has plunged for local jewelers as the sluggish global economy undermines people's purchasing power and forces them to cut down on spending. Unsurprisingly, the luxury-goods sector was one of the first to suffer.
Last year, demand for jewelry dropped by 17 percent year-on-year to 629 metric tons.
As a result, a number of small businesses in Shuibei have been forced to close and others are looking for a way out.
"When people have less money, the first thing they consider is reducing their spending on jewelry," said Zheng Wenhong, deputy head of the Shenzhen Jewelry Designers Association. "This has made the lives of Shuibei's jewelers much harder because fewer customers come to them, and even when they come, they spend less."
According to Zheng, approximately 30 percent of the jewelry shops in the village have closed since the end of 2014.
Corruption crackdown
The slump in demand is also related to the central government's anti-corruption drive, which has prevented officials from accepting ostentatious gifts such as expensive jewelry, once a highly popular choice.
"In previous years, a number of jewelry products were bought as gifts for government officials, and they were usually very expensive. Now, that kind of consumption has disappeared, and that has contributed to the decline in Shuibei's jewelry business," Zheng said.
The development of the local jewelry industry began in the early 1990s, when the first group of outsiders settled in the village and started businesses. Most of them came from Guangdong's Chaoshan region, consisting of the cities of Chaozhou and Shantou, and neighboring Fujian province.
At the same time, a number of jewelers in Hong Kong took advantage of Shuibei's close proximity and low labor costs to build factories in the village. That led to jewelry-processing becoming the economic mainstay, even though there were only about 10 gold and jewelry businesses in Shuibei at the time.
Business grew rapidly and more players entered the market, hoping to share a piece of the pie in the booming sector. By 2003, the village was home to more than 300 jewelry-related enterprises and the number continued to rise at a fast pace.
"The heyday of the jewelry village was between 2005 and 2012, when business was at its peak. The monthly rent for a 50- to 100-square-meter shop was 200,000 yuan ($29,000) or higher at the time, and it was difficult to find vacant premises," Zheng recalled.
Instant millionaires
"Factories received a large number of orders from customers with voracious appetites for luxury goods, and new jewelry shops were always opening in the village. It's no exaggeration to say some people in the industry became millionaires overnight."
The sector's growth also brought considerable benefits to the villagers and people living nearby.
"More than 20 years ago, a large number of people were recruited to work in jewelry factories in the village. Therefore, rental demand was strong. Sometimes, apartments in the village were in short supply," said a 50-something villager, who only gave her surname as Zhang. "That's not the case anymore."
Things began to change in 2008, when the government began to pay greater attention to environmental protection, forcing many factories to close or relocate. That marked the start of the reincarnation of the village as a venue for jewelry exhibitions and trade shows rather than a manufacturing base. Some of the old factory buildings can still be seen, but they are no longer active.
Now, Shuibei is home to more than 3,800 jewelry stores and exhibition spaces, which generate a combined revenue of more than 100 billion yuan every year, according to statistics from the Economic Promotion Bureau of Luohu District, in which Shuibei is located. More than 80,000 people work in the local industry.
A number of well-known brands have their origins in Shuibei. Official data show that 44 percent of the Chinese brands in the sector come from the village. Dozens of businesses have extended their footprints to the majority of Chinese cities via chain stores.
For example, Chow Tai Seng Jewelry Co, which has applied to list on the Shenzhen Stock Exchange, operates more than 2,300 stores across the country, making it one of China's biggest jewelry brands.