12.4m in rural areas lifted out of poverty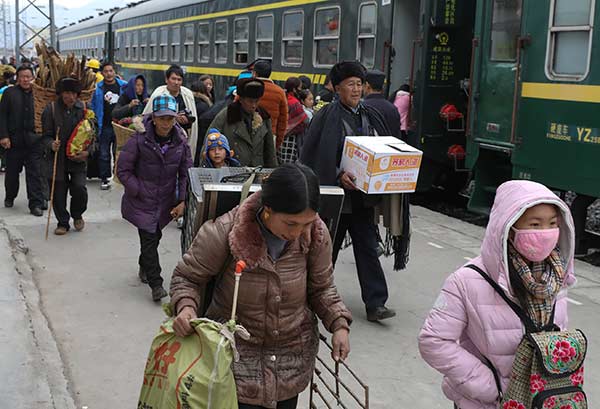 Passengers get off a train in Xide county, Sichuan province, on Saturday. Ticket prices for the train have remained unchanged for more than 20 years amid government poverty relief efforts. Jiang Hongjing / Xinhua
China lifted 12.4 million rural residents out of poverty last year as part of the central government's campaign to lift the entire nation out of poverty by 2020.
There are still 43.35 million people living below the poverty line of 2,300 yuan ($335) in annual income.
The data was released by the National Bureau of Statistics on Tuesday in its annual report on economic and social development.

Calling the poverty relief effort a "noticeable achievement", the report said China has "over delivered" on its promise to help 10 million people a year.
Last year, China boosted the average per-capita annual income of rural residents living in registered poor areas to 8,452 yuan, up 8.4 percent year-on-year, according to the NBS data.
A total of 1.58 million families previously living in dilapidated buildings have had their homes renovated or rebuilt with the help of local governments.
Another 2.49 million residents living in extremely poor regions are being relocated to better-developed areas as part of an ongoing program led by the National Development and Reform Commission, the top economic planner.
Rural poverty has been one of the major challenges for the world's second-largest economy and most populated country.
President Xi Jinping has repeatedly expressed concerns over poverty-stricken regions since he took office.
A recent report published by People's Daily reviewed Xi's efforts made toward helping poor rural villagers during his more than four-decade career in public service, saying that the government should assign the task of poverty alleviation to its top talent.
"On poverty alleviation, there are responsibilities to be assumed on every level in government," Xi was quoted as saying. "Only when the desired results are achieved can a Party chief or the head of a county leave their posts."
chenmengwei@chinadaily.com.cn