Shanghai's new smoking ban takes effect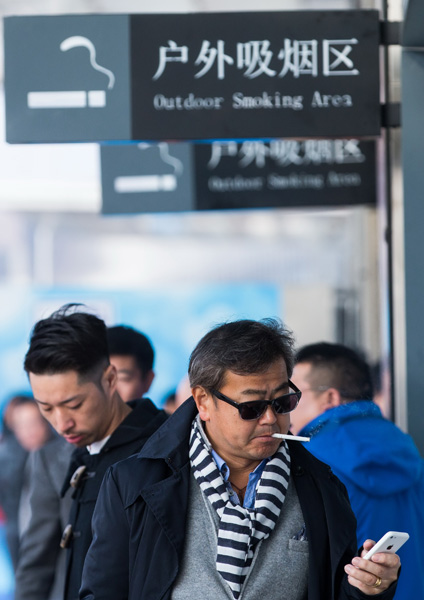 A man smokes at Shanghai Hongqiao Railway Station.Xu Kangping / For China Daily
A new regulation prohibiting smoking at all indoor public venues and work areas in Shanghai took effect on Wednesday, a measure expected to shield people from the health risks of secondhand smoke.
The ban was approved by the Shanghai Municipal People's Congress, the city's legislative body, in November. It extended the smoking ban to artistic performance and sports venues, open areas at maternity and infant hospitals, and bus stops.
Under the regulation, individuals caught smoking in prohibited areas will be fined from 50 to 200 yuan ($7.35 to $29.40) and organizations that violate the regulation or fail to stop smoking will be fined 2,000 to 30,000 yuan.
In 2010, the city limited smoking to designated areas in some indoor venues, including restaurants, entertainment venues, railway stations and airports, but experts and researchers said that fails to protect people from passive secondhand smoke.
The latest figures from the Shanghai Health and Family Planning Commission showed the rate of smoking in prohibited areas fell to 8.5 percent by the end of last year from 18.6 percent in 2010.
Last year, 23.3 percent of people in Shanghai aged 15 to 69 smoked.
"This figure shows the importance of implementing such a regulation, and it also reflects the necessity to ban smoking in all public areas," said Wu Jinglei, director of the commission.
A man surnamed Chen said he supports the new regulation, which he said is especially good for children's health. He said that last week, he saw a man ignore the no-smoking sign in a hot-pot restaurant and light up with children sitting around him.
"Management and staff should take responsibility and stop people from smoking. Individuals have little impact," Chen said.
The manager of King of KTV, surnamed Cai, said: "We have prepared for the new smoking ban for two months, including informing customers about the new policy and arranging staff to patrol indoor areas and prevent smokers. We will do everything we can to follow the new regulation."
The manager said the venue may refuse service to customers who insist on smoking, and may call law enforcement officers to solve any problems.
The city's health promotion department plans to educate the public about the health risks of smoking and promote the new regulation.
Zhang Han contributed to this story.