From foster child to caregiver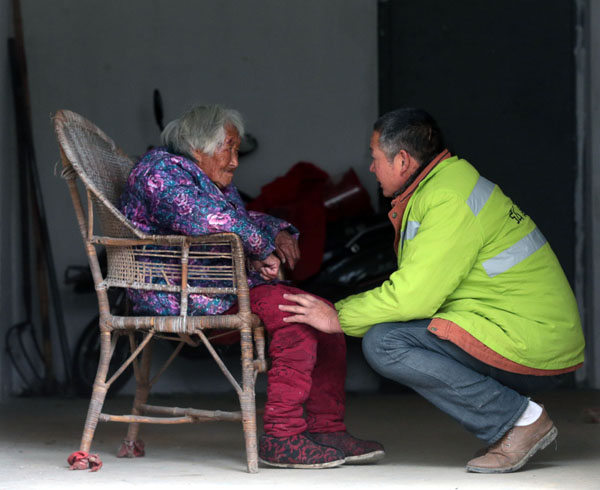 Bo Shulin and his mother Xu Jinying at their home in Changzhou, Jiangsu province.Photos Provided To China Daily
Few people would relish the idea of taking their 91-year-old mother with them to work every day, especially if she had Alzheimer's disease.
Yet that is exactly what Bo Shulin, a 59-year-old street cleaner in Changzhou, Jiangsu province, has been doing for the best part of a decade.
Each work day, Bo gets up at around 5 am and dresses Xu Jinying, washing her face and brushing her teeth, before walking her to his motorized pedicab, which she sits inside while he works.
In the winter, he brings extra layers and hot food to keep Xu warm, while fans and ice water help her keep cool in the summer months.
Bo was born to a poor family in Changzhou's Hutang township in 1958. The third of three sons, his parents were unable to care for him.
Xu, who lived in Lianyungang at the time, adopted Bo when he was just 7 months old and though she and her husband were also poor, they did their best to provide for him.
"I remember my mother secretly putting boiled eggs into my pocket before I went to school," he said.
"At that time, eggs were sold to support the family. Few people ate them - they were too valuable."
When Bo was young, many of his classmates dropped out of school due to financial concerns, but Xu said she wanted him to continue his education and saved money for his tuition.
In the end, he graduated with a senior high school diploma and was hired as a teacher by a primary school.
After his foster father died in 1992, Bo decided to move back to his birthplace because he thought Changzhou would offer better economic prospects. However, the former teacher could only find work as a street cleaner.
In 2005, Xu began to show signs of the onset of Alzheimer's. She would bring garbage from outside into the house, throw away useful items and walk into neighbors' homes uninvited.
At first, Bo tried to leave her at home when he went to work, but she would often wander off and get lost and once, when locked inside by herself, she fell over and hurt her head.
That's when he decided to bring her to work, for her own safety.
"I want to take care of her 24 hours a day," he said.
Zheng Yongmei, Bo's wife, said her husband gets up at least three times a night to check on his mother and tuck her in.
"Nobody takes better care of a senior than him," she said. "He is a warmhearted man and talks to her with a soft voice, washing her dirty clothes and feeding her patiently."
For Bo, he is simply doing what any loving son would do.
"I don't think I have done something unusual," he said. "My mother brought me up when I was little, and now it's my turn to make sure she's safe and protected."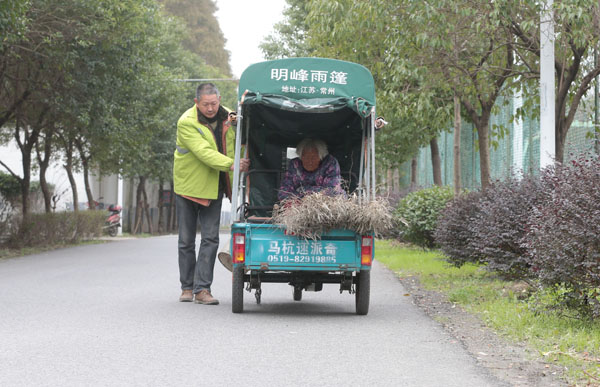 Bo takes his mother to work with him in Changzhou.