Political advisors asked to adhere to CPC leadership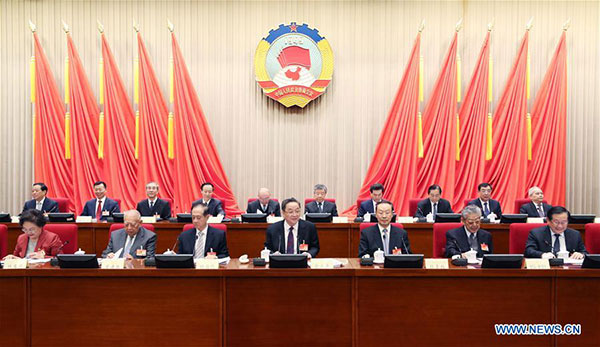 Yu Zhengsheng (C, front), chairman of the National Committee of the Chinese People's Political Consultative Conference (CPPCC), presides over the 19th meeting of the Standing Committee of the CPPCC 12th National Committee in Beijing, Feb 28, 2017. The meeting closed here on Tuesday.[Photo/Xinhua]
BEIJING - Top political advisor Yu Zhengsheng on Tuesday asked the country's political advisors to stick to the leadership of the Communist Party of China (CPC) and socialism.
Yu, chairman of the Chinese People's Political Consultative Conference (CPPCC) National Committee, made the remarks at a concluding meeting attended by senior political advisors.
Political advisors should perform their duty and make good preparation for the 19th CPC National Congress which will be held in 2017, Yu said.
Yu called on political advisors to offer advice to economic and social development, conduct consultation, raise quality proposals, perform supervision and promote solidarity.
He also urged political advisors to observe disciplines and anti-graft rules during the upcoming annual session of the top political advisory body which will start on March 3.
The meeting adopted the agenda and schedule for the CPPCC National Committee's annual session.
The meeting also approved the standing committee's work report to be deliberated at the annual session and a report on proposals made since last year's session.
Several appointments and dismissals of officials were also announced at the meeting.
The CPPCC is a consultation body. It consists of figures representative of Chinese society who advise the government, and legislative and judicial organs.