Newest combat drone makes maiden flight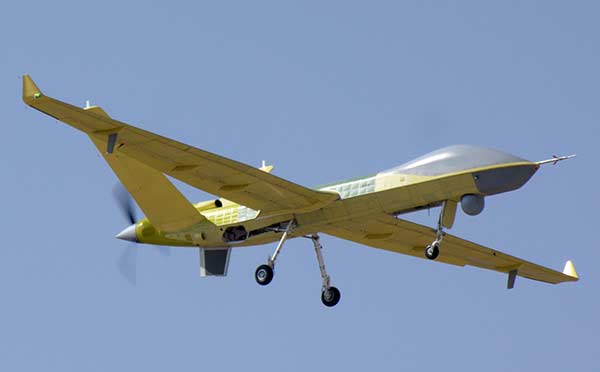 Wing Loong II combat drone during its maiden flight on Monday. Provided To China Daily
Designer: Wing Loong II is world's best along with US' MQ-9 Reaper
China's latest combat drone made its maiden flight on Monday and is set to be "the biggest export deal" of any Chinese-made unmanned aircraft, according to the drone's designer.
A yellow prototype of the Wing Loong II conducted a 31-minute test flight from an unidentified airport in northwestern China on Monday morning, according to a news release by the State-owned Aviation Industry Corp of China on Tuesday.
The drone, developed by the corporation's Chengdu Aircraft Design and Research Institute, was controlled by Lei Qiang, a legendary test pilot with the People's Liberation Army Air Force who was the first to fly China's J-10 fighter jet.
Li Yidong, deputy director of the institute and chief designer of the Wing Loong series, was quoted in the news release as saying that the move indicates China is ready to put the new-generation reconnaissance/strike drone on the international market.
Li said Wing Loong II is China's first drone to be propelled by a turboprop engine. Due to the good reputation of the Wing Loong I, Wing Loong II received the largest contract ever for a Chinese-made export-version drone, he added, without elaborating.
The AVIC unveiled the concept of Wing Loong II at the Aviation Expo China in Beijing in September 2015, while a prototype was displayed to the public at the 11th China International Aviation and Aerospace Exhibition in Zhuhai, Guangdong province, in November last year.
The design of the unmanned aircraft was based on its predecessor, Wing Loong I. According to foreign media, Wing Loong I has been sold to countries in Africa and the Middle East, including Nigeria, Egypt and the United Arab Emirates, at an estimated $1 million per unit.
Compared with Wing Loong I, the new drone has an optimized aerodynamic design, an improved airframe and upgraded airborne systems, featuring better capabilities in terms of flight, payload and information capacity, according to the AVIC.
Wing Loong II has a length of 11 meters and a wingspan of 20.5 meters. It can stay airborne for 20 hours and has a maximum speed of 370 kilometers per hour.
The larger-sized Wing Loong II is able of carrying up to 12 laser-guided bombs or missiles with a total weight of 480 kilograms. By contrast, Wing Loong I can carry only two bombs or missiles with a combined weight of 100 kg.
Li said Wing Loong II is one of the world's best combat drones along with the United States' General Atomics MQ-9 Reaper, a hunter-killer drone often deemed by Western analysts as the best of its kind.
Wang Yangzhu, president of Beihang University's Unmanned System Institute, told China Daily on Tuesday that he believes the Wing Loong II has an operational radius of 1,500 km and that it is equipped with a satellite communications system.
"If the drone is as good as the AVIC says it is, then I believe it will be very competitive in the international market," Wang said.
Wang Ya'nan, editor-in-chief of Aerospace Knowledge magazine, said that as the Wing Loong II has a satellite data link system, it is capable of operating in regions with vast mountainous areas or plateaus.
"Moreover, the drone will be attractive to countries currently deploying the Wing Loong I, as they already know the capabilities of Chinese-made drones, such as their ability to multitask, their large payload and long operational range," he said.
zhaolei@chinadaily.com.cn