Two scientific vessels launched in sea trials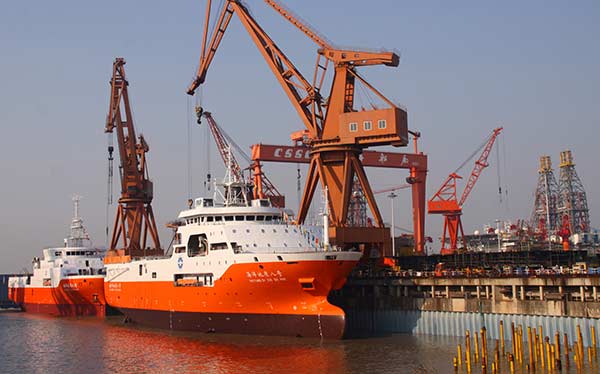 China's newest vessels for ocean scientific investigation, Ocean Geology VIII and Ocean Geology IX, are docked at Shanghai Shipyard. Provided To China Daily
Two new vessels for scientific investigation, built from the keel up by China, were launched in Shanghai on Tuesday for sea trials.
Construction of Ocean Geology VIII and Ocean Geology IX was started by Shanghai Shipyard Co in October 2015, and the vessels will be delivered to two geological institutes under the Ministry of Land and Resources' China Geological Survey.
A third vessel, Ocean Geology X, will enter sea trials later this year. The trio will be commissioned for geophysical surveys, hydrological environment probes and mid-to deep-sea drilling.
China has already used another two vessels in the Ocean series for scientific research.
Chen Zhili, chief engineer of China State Shipbuilding Corp, said on Tuesday that the delivery and use of the new vessels will play a vital role in improving innovation in marine geology.
Ocean Geology VIII is 88 meters long, 20.4 meters wide and 8 meters high. It can sail at more than 15 knots with a range of up to 16,000 nautical miles. The vessel can carry 60 crew and can be used for scientific purposes in any navigable zone around the globe.
Ocean Geology IX is 87.07 meters long, 17 meters wide and 7.8 meters high. It will be equipped with an underwater drill that can take geological samples from 160 meters underground at a water depth of 2,500 meters.
Li Jinfa, deputy director of China Geological Survey, said that the successful launch of the two vessels shows that China is taking a world-leading position in ocean geological investigations and will significantly boost the country's ability in surveying basic geology and finding offshore oil and gas, and mineral resources.
Cao Chen contributed to this story.
wangzhenghua@chinadaily.com.cn