New PLA Navy ship unveiled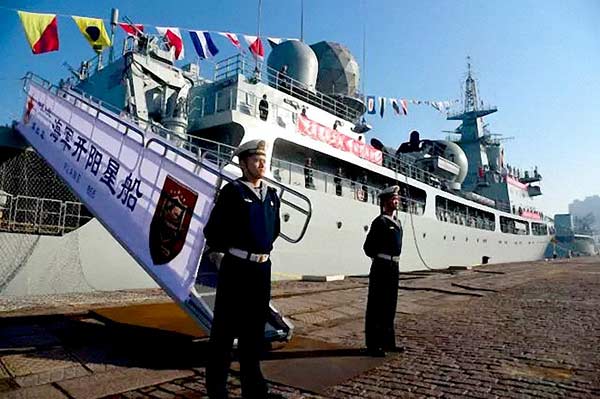 The People's Liberation Army Navy holds a ceremony to celebrate the commissioning of the CNS Kaiyangxing on Tuesday.Provided To China Daily
Vessel has top speed of 37 km/h and displacement of 6,000 metric tons
The People's Liberation Army Navy has commissioned a new electronic reconnaissance ship, a PLA Navy media outlet reported on Wednesday in a rare move that also made public the composition of the nation's electronic intelligence fleet.
The CNS Kaiyangxing, or Mizar, with hull code 856, was delivered to a combat support flotilla of the North Sea Fleet on Tuesday morning in Qingdao, Shandong province, Modern Navy said on its WeChat account on Wednesday.
The Kaiyangxing is capable of conducting all-weather, round-the-clock reconnaissance on multiple and different targets, the report said, adding that the ship is so sophisticated that only a few countries, such as the United States and Russia, are capable of developing it.
Modern Navy said the PLA Navy now operates six electronic reconnaissance vessels - Beijixing (Polaris), Tianwangxing (Uranus), Tianlangxing (Sirius), Haiwangxing (Neptune), Kaiyangxing (Mizar) and another whose name has not been revealed and is only known by its hull code of 855. It also gave specific information about the ships such as their capabilities and functions.
Until now, the PLA Navy has never made public so many details about its intelligence collection ships.
The Kaiyangxing is a Type 815A electronic reconnaissance ship, which has a full displacement of 6,000 metric tons and a maximum speed of 20 knots, or 37 kilometers per hour, according to the Modern Navy report, which added that it is equipped with three small-caliber naval guns.
An expert from China's shipbuilding industry who wished not to be named told China Daily that the US Navy deploys at least 15 intelligence collection ships, while China still lags behind in this regard.
"The fact that we are facing an increasing number of difficulties when we safeguard our maritime interests means that we require more reconnaissance ships to support the PLA Navy's operations on the open sea," he said. "In addition, our future carrier battle groups also need such vessels that can provide various kinds of theater intelligence."
In 2016, the PLA Navy commissioned a total of 18 ships, including a Type 052D guided missile destroyer, three Type 054A guided missile frigates and six Type 056 corvettes.
These ships have a total displacement of 150,000 tons, roughly half of the overall displacement of the Royal Navy.
China is now building a domestically designed aircraft carrier in Dalian, Liaoning province. According to Defense Ministry spokesman Yang Yujun, the new carrier will have a displacement of 50,000 tons and will deploy domestically developed J-15 fighter jets.
zhaolei@chinadaily.com.cn