Topnotch online English teacher earns nearly $3 million a year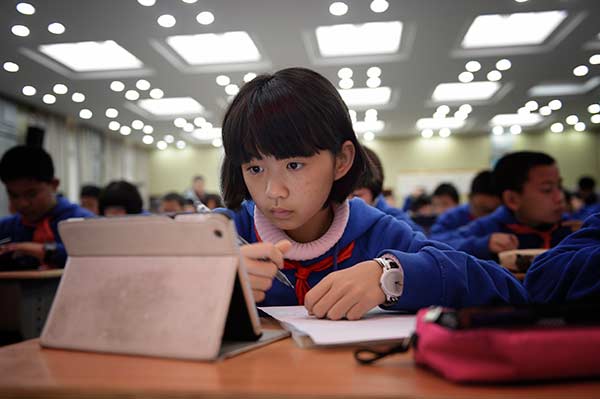 A student learns from an online open course in a middle school in Changsha, Hunan province, on Nov 28, 2014. [Photo/CFP]
A topnotch online English teacher could earn 20 million yuan ($2.89 million) a year amid the heated online education market in China, China Youth Daily reported.
Online English teacher Zhu Wei sells his live streaming course, which includes nine two-hour lessons, at a price of 799 yuan on an online education platform. The course was sold 2,330 times in 2015, earning 1.86 million yuan in total, of which about 1.78 million yuan belongs to Zhu and his team.
Zhu's team developed five such courses in 2015 and earned about 11 million yuan, plus royalties on published English textbooks, with him being the author, and other offline teaching earnings. "A teacher's income is expected to exceed 20 million yuan," said Zhu, "I could not believe it until I myself achieved that goal."
In comparison, a teacher at an elite public school in Shanghai earns 10,000 yuan a month and a teacher at a private education institution earns 30,000 yuan a month.
Before Zhu entered the online education market, he was an instructor for 10 years at the New Oriental Education and Technology Group, a leading private educational service, and was previously an English teacher at a public school.
The internet can turn a teacher into a superstar, helping young teachers compete with senior teachers at the same starting line, said another online teacher Su Nannan.
Su started teaching English in 2000 and opened an online course in 2014. His first class, designed for around 2,000 students, was promoted on the home page of the online learning service provider hujiang.com, and unexpectedly attracted the maximum number – 9,000 students.
After the class, Su set up a group chat on Tencent's QQ, with a cap of 500 people, to answer students' questions. But even three days after the class, there were too many people wanting in the group so he had to set up another three 1,000-people group chats.
"I never thought I could make connections with so many students after one class," said Su, adding that some students asked about knowledge points while others talked about their bitterness of learning English.
"It is hard for teachers and students to have such a broad and in-depth discussion in an offline class," said Su, "I felt that I was needed by so many students for the first time in my 14 years of teaching, and my heart was trembling."
"You are unable to cheat in your teaching ability. Only when you have a tank of water, can you pour a bowl of water to your students," said Kong Wei, vice-president of the real-time interaction education platform CCtalk under hujiang.com.
"Customers do not recognize massive-produced courses, and that's why a popular online teacher becomes more popular," Kong added.
CC online teacher school focuses on training online teachers. The school's vice president Xu Jun often analyzes the characteristics of popular online teachers and helps other online teachers acquire similar characteristics.
One of his case studies is a teacher named Chen Zhiyuan, who developed his followers from zero to 104,000 within one year.
Xu praises Chen for being both a good English teacher and a marketing genius. Chen opened courses on big platforms first, and gave public lectures to attract more followers, and then turned his followers into his WeChat friends to provide person-to-person consulting services.
"Not everyone has the patience to do person-to-person consulting, but he gathered many customers this way," said Xu, adding that Chen's most noticeable character trait is the emotional interaction between him and his customers.
"Many teachers are great but are unable to present charisma online," said Xu. "While a popular online teacher not only teaches well, but also has good looks, high emotional intelligence and knows his customers well."