Relationship between smog and lung cancer being studied in Beijing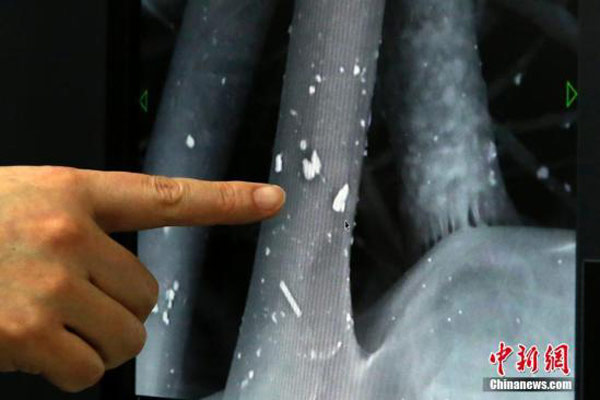 An expert shows smog particles collected from facial masks, Jan 3, 2017. [Photo/ Chinanews.com]
The health authority in Beijing is studying the long-term impact of smog on people's health, including the widespread concern that smog could be a cause of lung cancer.
Beijing Municipal Commission of Health and Family Planning (BMCHFP) has begun to study the issue, reported the Beijing News on Sunday.
The report said that current studies have confirmed that inhaling smog may lead to some acute diseases in people's respiratory systems. Long-term contact with pollutants in the air could cause chronic inflammation, hypo immunity and allergies. But the exact relationship of smog and lung cancer is not clear at the moment.
"It will take a decade or longer to collect data before the researchers can make clear the relationship between smog and people having a certain kind of disease," said Fang Laiying, director of Beijing Municipal Commission of Health and Family Planning.
Based on previous studies on smog, the BMCHFP recently issued a common-sense list about protective measures against smog, together with the Beijing Center for Diseases Control and Prevention.
On smoggy days, the BMCHFP, first of all, advises people to stay indoors. It added that people should use masks that are tight to the face. But it also said that the wearing of masks is not fit for pregnant women, the elderly and those with chronic disease, as it will add to breathing resistance.
Fang Laiying added that BMCHFP will make more efforts in studying effective measures that citizens can take to protect themselves from smog that has been a frequent issue in many Chinese cities in recent years.