8,000 apply for Baidu Map collector vacancies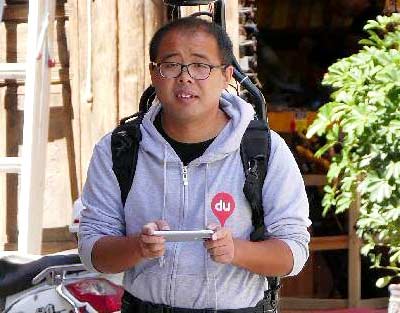 A Baidu Map information collector operates an unmanned aerial vehicle in Dukezong, an ancient Tibetan town in Yunnan province. [Photo/China Daily]
Baidu Map, a desktop and mobile map service, recently advertised vacancies for map information collectors.
The job requires collectors to gather detailed road data, such as the location of ditches and overpasses, with collectors spending most of their time on roads and mountains as well as by the sea. The role of chief map information collector offers an annual salary of 1 million yuan ($145,200).
Within two days of posting the vacancies in early December, Baidu received about 8,000 applications.
Collectors are provided with a sport utility vehicle and an unmanned aerial vehicle to carry out their job, in addition to high-tech equipment for information collection and professional photographic equipment. Furthermore, they are given summer and winter vacations, insurance and a high-temperature allowance.
The collective distance the collectors have covered has already surpassed 6.7 million kilometers, involving more than 700 million panoramic photos, with one collector having visited 215 cities in the past year, according to Baidu Map.
Tang Qiying, 21, has been working as a map information collector at Baidu for more than a year. He has traveled more than 30,000 km and visited five provinces in the past year.
"Because of the job, I have been able to experience the most beautiful scenery," he said
"However, the job can be lonely. One time, in a sparsely populated desert area in Qinghai province, I felt really lonely, as there was no one around. I kept driving until I saw a few antelopes, who I viewed as my friends. I think there is always a price to pay for getting what you want."
Zhu Zhaohui, a 24-year-old from Anhui province, has been working for Baidu Map for about 18 months. "My parents didn't understand my job at first, as I am away on business trips year-round, but I told them I want to visit more places while I am young," Zhu said.
"Sometimes, I encounter difficulties and feel afraid, but when I think about the more than 500 million people who are using the data that I have collected, it makes my efforts seem worthwhile."
Baidu Map is set to become a world mapping service provider covering more than 150 countries and regions, including Asia, Europe, Africa, North America, South America and Oceania, providing services for 99 percent of the world's population.
It said it holds about 70 percent of the domestic market share at present, with more than 300 million active monthly users and about 100 million car owners using its mapping service.