Taiwan blamed for drop in cross-Straits exchanges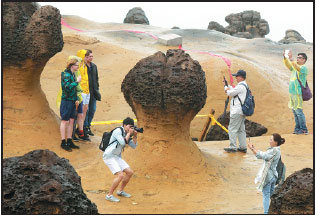 Tourists from the Chinese mainland visit the Yehliu Geopark in Taiwan's New Taipei City in May.Zhu Xingxin / China Daily
Residents from island welcome to work, live, study on the mainland
The Chinese mainland is blaming Taiwan authorities for the decline of personal exchanges.
In 2016, 5.73 million trips were made by Taiwan residents to the mainland, an increase of 4.2 percent compared with 2015. Meanwhile, 3.61 million trips were made by mainland residents to Taiwan, a decline of 14.4 percent, Ma Xiaoguang, a spokesman for the Taiwan Affairs Office of the State Council, said on Wednesday.
"It is the first decline in eight years ... The change is affected by the political change in Taiwan," Ma said during a news briefing in Beijing, adding that the mainland's policies attract more people from Taiwan to the mainland.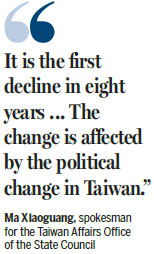 "However, Taiwan's political change has worsened the atmosphere for cross-Straits communication and affected mainland residents' willingness and passion to travel to Taiwan," he said.
Since 2008, when the island opened up to mainland travelers, the number of independent tourists had increased by at least 15 to 20 percent.
But in 2016, the tourism industry in Taiwan suffered a decline of mainland tourists.
Liu Xiangping, head of the Institute of Taiwan Studies at Nanjing University, said the island's authorities contributed to an atmosphere that "convinced" residents that visitors from the mainland are not well-behaved tourists.
"The attitude makes mainland travelers feel unwelcome and lose interest in Taiwan," he said.
The decline affected Taiwan's tourism industry.
In September, more than 15,000 hospitality and tourism workers took to the streets in downtown Taipei, demanding the island's authorities do something about the lackluster industry.
"Because the tourism industry boomed in the past few years in Taiwan, many tourism companies, especially small and medium-sized ones, took out loans to expand their business to attract more tourists, such as redecorating hotels and hiring more employees," said Zhu Songling, a professor at the Institute of Taiwan Studies at Beijing Union University.
"They have to continue making money to pay their debt. But now the decline will affect their income," Zhu said.
Since May, when Taiwan's new leader Tsai Ing-wen took office, she has not acknowledged the 1992 Consensus, which establishes the one-China policy.
The official communication channel has been cut off since July.
The mainland has encouraged people-to-people communication.
"In 2017, we will continue to support communication across the Straits," Ma said.
"We will solve practical problems for Taiwan people to work, live and study on the mainland, to ensure they develop their businesses on the mainland smoothly," he said.