Home / China / HK Macao Taiwan
Mainland tourists injured in Taiwan bus accident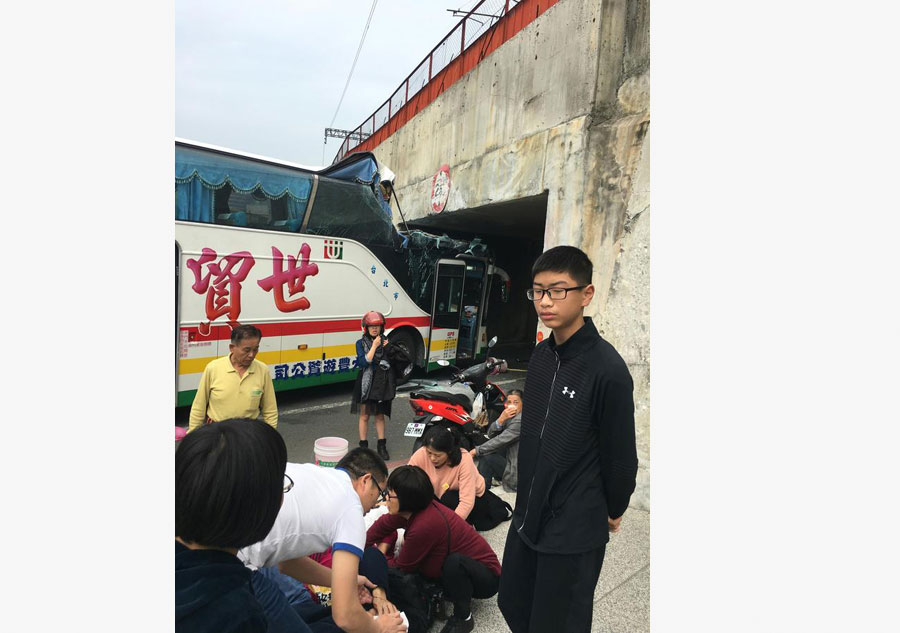 Photo taken on Feb 4, 2017 shows the accident site of bus crash in Kaohsiung, Taiwan. A bus carrying tourists from the Chinese mainland crashed in Kaohsiung Saturday, with a number of people injured. [Photo/Xinhua]
TAIPEI -- About 21 tourists from the Chinese mainland were injured Saturday in a bus accident in Kaohsiung city, south Taiwan.
Eighteen people, including seven children, were slightly injured, and another three were "observed with apparent wounds," according to the Taiwan Strait Tourism Association.
All the injured have been taken to hospital.
The bus carrying 28 passengers hit a railway bridge tunnel across the highway at about 10:04 am. The 28 passengers include 25 tourists and a tour guide from East China's Zhejiang province, and a tour guide and a bus driver both from Taiwan.
The accident was possibly caused as the driver underestimated the height of the bus, the Kaohsiung authorities said, adding further investigation is underway.
The Kaohsiung Medical University Chung-Ho Memorial Hospital said that it had received eight people injured in the accident, adding that all eight walked into the hospital themselves for treatment.
The Kaohsiung Municipal United Hospital received three injured passengers. The hospital's emergency doctor told reporters that the three could leave the hospital as early as tomorrow.