Code of conduct framework taking shape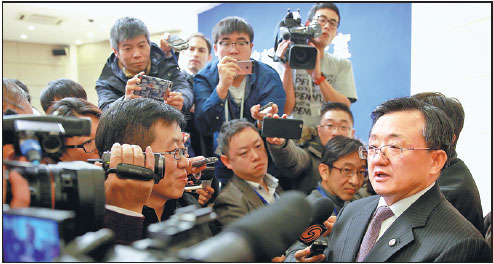 Vice-Foreign Minister Liu Zhenmin answers reporters' questions in Beijing on Wednesday at a news conference on the State Council Information Office's publication of a white paper on China's Asia-Pacific security cooperation.Zou Hong / China Daily
China confirmed on Wednesday that it will finish a framework with Southeast Asian nations by the middle of the year for a code of conduct on the South China Sea.
"Negotiation on the code of conduct has entered a very important phase," Vice-Foreign Minister Liu Zhenmin said during a news conference to issue a white paper on China's policies on Asia-Pacific security cooperation.
"We will continue to focus on the job in the coming few months and do our best to finish a draft of the framework of the code of conduct," Liu said, joking that the work will not be dragged out until the last minute in June but will be done "as early as possible".
He also said this is progress in just one phase of negotiation on the Code of Conduct for the South China Sea, adding that the heavier work will come after the draft is completed.
In Manila, the Philippines' foreign minister also said on Wednesday that the code of conduct framework will be completed by the middle of the year.
"Even as we speak, we continue to have discussions with our high officials, below ministerial level," Foreign Secretary Perfecto Yasay told a news conference, according to Reuters. "And this is precisely why we are hopeful."
China and Association of Southeast Asian Nations members started work on the code of conduct in 2003. Yasay said China had been "very cooperative" in the process.
Yasay also said his country won't raise last year's international arbitration ruling on the South China Sea during ASEAN summit talks that Manila will host this year. He said pressing the ruling at the meeting would be "simply counterproductive for our purposes".
Beijing rejected the ruling in the arbitration case, which was unilaterally brought by the Philippines, and said the tribunal's ruling cannot be the basis of any discussions.
Chen Qinghong, a researcher of Philippine studies at the China Institutes of Contemporary International Relations, said recent progress on the South China Sea issue can be largely attributed to the shift of Manila's stance.
Philippine President Rodrigo Duterte has taken steps to mend relations with China since taking office in June.
"So far, we judge that China's double-channel strategy is effective," he said, referring to Beijing's stance that South China Sea disputes should be negotiated by countries directly involved, while China and ASEAN should work together to maintain peace in the sea.
lixiaokun@chinadaily.com.cn