Work begins on observatory in Tibet
Construction began this month on an observatory in Southwest China that will look for waves in space created by the Big Bang.
The observatory is being built on a plateau 5,000 meters above sea level in the Tibet autonomous region's Ali district, which has been identified as one of the best places in the Northern Hemisphere for possibly observing primordial gravitational waves.
The observatory is expected to be finished in five years.
Gravitational waves, predicted by Albert Einstein in 1915 as part of his general theory of relativity, are generated when celestial bodies collide.
The advanced Laser Interferometer Gravitational-Wave Observatory in the United States became the first to detect them in September 2015 when it picked up waves caused by the merging of two black holes 1.3 billion years ago.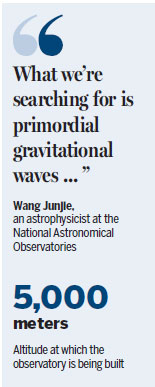 However, primordial gravitational waves, which the Ali observatory will focus on, are believed to have been created about 13.8 billion years ago by the Big Bang, the explosion that scientists say created the universe, according to the Chinese Academy of Sciences.
So far, primordial gravitational waves have never been detected.
Electromagnetic radiation travels through space in light waves that are distinguished by varying wavelengths. One of them, the submillimeter wavelength, will be key to finding primordial gravitational waves, said Wang Junjie, an astrophysicist at the National Astronomical Observatories, part of the CAS.
"The Big Bang spread sub-millimeter light waves over a wide area. So researchers will install a submillimeter telescope on the mountains in Ali to search for submillimeter waves and uncover primordial gravitational waves from the Big Bang," he said.
"What we're searching for is primordial gravitational waves that have traveled for 13.8 billion years before arriving at Earth, and, if they exist, they're very weak."
What makes submillimeter waves difficult to detect is the moisture in Earth's atmosphere, which absorbs the waves.
"Thanks to the thin air and dry climate in Tibet, which reduces the influence of moisture, the region is one of the best sites in the Northern Hemisphere for submillimeter observation," Wang added.
According to a report by Science and Technology Daily, the observatory project is being led by the CAS' Institute of High Energy Physics and has received a 130 million yuan ($18.8 million) research grant from the central government.
"Searching for primordial gravitational waves is of great significance," Wang Yifang, director of the Institute of High Energy Physics, was quoted in the report as saying. "China will take the international lead in primordial gravitational wave research when the observation station is completed."
China also launched another project to detect gravitational waves in July 2015, the Tianqin project that plans to take four steps in two decades to launch three satellites into high Earth orbit and detect gravitational waves.
chengyingqi@chinadaily.com.cn