Animal saliva may aid in therapy
Scientists in southern China have used animal saliva to produce a protein that could aid in the development of therapeutic drugs for neurological diseases like Alzheimer's and Parkinson's.
A research team led by Wu Zhenfang, a professor of animal science specializing in molecular genetics and breeding at South China Agricultural University, used the salivary glands of transgenic mice as bioreactors to produce nerve growth factor, which regulates neurons in the brain and spinal cord.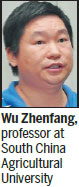 The team's findings were published late last month in Scientific Reports, an online journal published by Nature magazine.
"Salivary glands of animals have great potential to act as powerful bioreactors to produce human therapeutic proteins," according to the research report.
Wu said: "Our study provides a brand new, highly efficient approach for the synthesis of human nerve growth factor."
The study, the first of its kind worldwide, started eight years ago as a State-funded transgenic technology project focused on pig breeding. To expand the use of the technology, the team applied it to producing human pharmaceutical protein.
To date, two therapeutic proteins produced from the milk of transgenic animals have been approved for commercial and clinical use in Europe and the United States respectively. Yet animals secrete larger amounts of saliva than milk, and saliva can be collected repeatedly.
Wu said his team's study holds major strategic significance in strengthening biotechnological innovation.
The technology has an important application in potentially producing human therapeutic proteins, said Zhao Shuhong, professor of animal science specializing in pig genomics and breeding at Huazhong Agricultural University.
Qian Shiye contributed to this story.
liwenfang@chinadaily.com.cn