Five stories to inspire love on Valentine's Day
Today is Valentine's Day, a day when people go the extra mile to express their feelings to their loved ones. On this romantic holiday, let's have a look at some love stories that may touch your heart.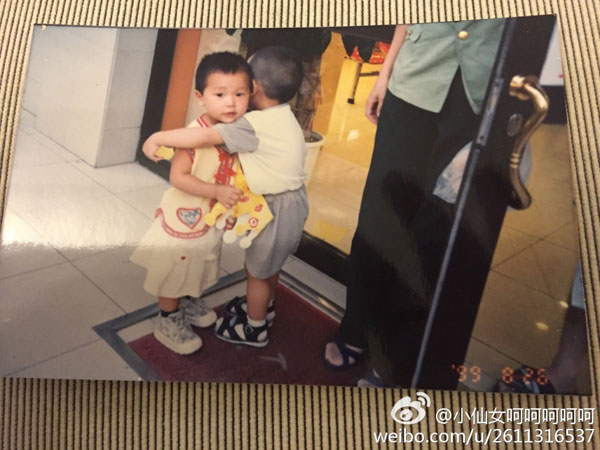 An old photo recalls a woman's childhood memory. [Photo/Sina Weibo]
Woman searches for boy who hugged her 18 years ago
Do you remember your childhood playmate? In North China's Tianjin, a woman posted two photos on Sina Weibo in search of a boy who gave her a hug 18 years ago.
"Looking for the boy in gray clothes," the woman with the online name Xiaoxiannv Hehehehehe said in a post on Feb 3.
The woman said she met the boy in a cake store on Aug 18, 1999, her second birthday. She said the boy looked at her through the glass door, and when the door opened, he rushed to hug her.
The woman said she stumbled across the photo in an old album and decided to look for the boy because she was touched by the childhood memory.
The post attracted much attention as major media outlets and netizens forwarded it to help her find the boy.