Medical services, surrogacy among hot issues raised
Ministries and departments responded to a series of concerns from the public last week, including the improvement of medical services, the banning of surrogacy and work safety.
Health services
The National Health and Family Planning Commission held a news conference on Feb 8 and Jiao Yahui, senior official of the commission, said that China is implementing a three-year action plan, starting from 2015, to improve health services. By the end of 2016, she said, 1,378 medical institutions had offered mobile payment-based settlement services, 710 more than a year ago; meanwhile, 1,445 tertiary referral hospitals had established information database and offered access to the public, 200 more than a year ago; and 3,329 medical institutions had adopted appointment services, which reduced the waiting time of patients, Jiao said. By the end of 2016, she added, more than 6,800 medical institutions had provided telemedicine services to cover 1,330 counties.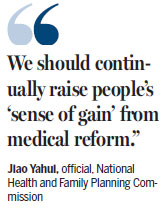 This year, the health authorities targeted 11 major tasks to further improve medical services, Jiao said. Medical resources will be better distributed, management of hospitals will be strengthened, and information technology will be used more widely to facilitate patients, she said.
The commission will continue to push supply-side structural reform to provide better health services and, at the same time, provide more targeted services to satisfy demand from the public, Jiao said. "We should continually raise people's 'sense of gain' from medical reform and ensure the public can share the dividends of reform," she said. Experience and lessons from the first three-year medical action plan will be collected, which will be used to improve the second three-year plan from 2018 to 2020, Jiao said.
Surrogacy in birth
Mao Qun'an, spokesman for the commission, said that surrogacy will continue to be banned in China and violations will be punished.
The announcement came after China started to adopt the second-child policy in early 2016. Some illegal activities, such as surrogacy, had arisen following the implementation of the new policy.
Surrogacy is a complex matter involving legal, ethical and social issues; most countries and regions in the world have banned any form of surrogacy and institutions and staff involved in surrogacy could be fined and punished in those countries and regions, Mao said. In China, the health regulator has promulgated a management regulation on human assisted reproductive technology, which forbids medical institutions and staff from performing surrogacy in any form, Mao told the news conference in Beijing.
In recent years, China has found and punished some surrogacy activities and it will continue to severely clamp down on surrogacy to ensure the public have access to safe, regulated and effective assisted reproductive technology services, he said.
Work safety
Officials from the State Administration of Work Safety said on Feb 9 that the three major workplace accidents in the last quarter of 2016 can be attributed to failures to abide by the relevant safe production rules.
The gas explosion in a coal mine in Southwest China's Chongqing municipality, which killed 33 people, the construction platform collapse at a power plant in Fengcheng, East China's Jiangxi province, which killed 73 people, and the gas explosion in a mine in Chifeng city in North China's Inner Mongolia autonomous region, which killed 32 workers, could have been avoided if staff paid attention to work safety regulations, they said. Relevant government departments were also responsible given their negligence, they added. "Blind spots, loopholes and weak links exist in the work safety supervision of relevant government departments," said Su Jie, spokesman for the administration.